US start-up carrier Breeze Airways will introduce its new Airbus A220-300s on 17 routes beginning in May.
The Salt Lake City-based low-cost airline says on 19 January that the new aircraft will offer customers a premium experience that includes first-class seats. The airline is selling the seats in what it calls its "nicest" fare class, from $99.
Breeze already sells two fare classes on its Embraer fleet – "nice" and "nicer", the latter with additional legroom and a free carry-on bag, checked bag and priority boarding.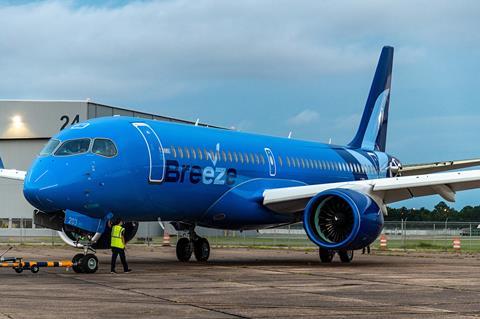 The first of the carrier's new A220s was delivered last month and Breeze anticipates having 15 of the type in service by year-end. They will be used "primarily for longer-haul flights, including transcontinental service," the airline says.
Breeze will launch the aircraft on routes from Tampa, Florida to nine cities on 4 May, and plans to successively fly A220s to more destinations until the end of June.
The "nicest" fare also includes two checked bags, a carry-on item and additional frequent flyer points. The airline says that later this year, when its longer routes are introduced, it will also serve "fresh food items".
"Breeze's A220-300 aircraft will feature a dynamic seating plan which can be customised for seasonality, or by route," the carrier adds. "The A220s will feature a range between 10 and 45 extra-legroom seats and 80 standard-legroom seats, all in a two-by-three configuration. The aircraft also will be outfitted with between 12 and 36 first-class seats in a two-by-two configuration." All seats will have in-seat power and USB ports.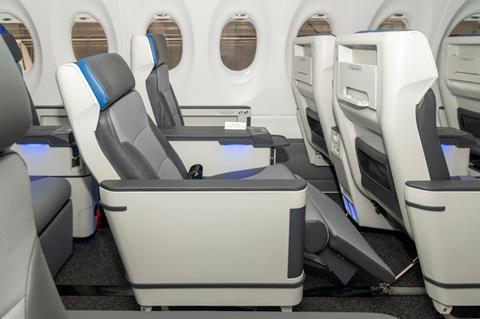 According to Cirium fleets data, Breeze has 10 Embraer 190s and three E195s in service. It flies to 16 cities and has plans to grow that schedule to 18 cities by mid-February.
The company, founded and led by serial airline entrepreneur David Neeleman, began flying between secondary cities in the eastern USA last May. It has agreed to purchase a total of 80 A220s, with one aircraft scheduled to be delivered each month for the next six and a half years.