British Airways is to restore Airbus A380 services this November for the first time since the pandemic began.
The Oneworld carrier grounded its 12 A380s in March 2020 as international travel demand collapsed amid the Covid-19 outbreak.
But while some other carriers, such as Air France have retired the type, BA always indicated its intent to bring its A380s back into service. It says it has now accelerated these plans in line with the US reopening its borders to European travellers at the start of November.
The airline will initially bring back four of its 12 A380s.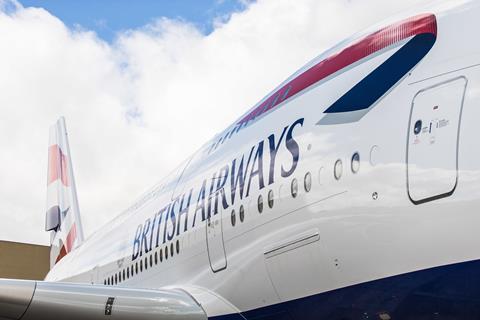 BA will deploy the type initially on flights to Miami and Los Angeles, followed in December by its deployment on Dubai services.
Director of network and alliances, Neil Chernoff, says: "This is an exciting time for British Airways and our customers as we see borders re-opening. With welcome news from the US, we are dramatically increasing flights and bringing home some of our A380s to give our customers as many options as possible."
As a result of the US government announcement, BA is also increasing frequencies on a number of transatlantic routes, including New York which it will serve with eight daily flights by December.
It is also bringing forward the restart of services to several other US cities. In October and November the carrier will recommence services to Austin, Orlando, Tampa, San Diego, Las Vegas and Baltimore, while Nashville and New Orleans will follow in December. The airline will also start flying to Nashville and New Orleans once again, which both proved to be a hit with customers when they first launched.
The changes forms part of a winter network that also includes a number of new short-haul leisure destinations, including Marrakech, Dalaman and a new service to Antalya.