Brussels Airlines is reducing the number of aircraft in its fleet by 30% and slashing its workforce by a quarter in response to the coronavirus crisis.
Lufthansa Group's Belgian subsidiary said today that it must take "substantial and indispensable measures to guarantee the survival of the company" and to enable it to have a future after the pandemic.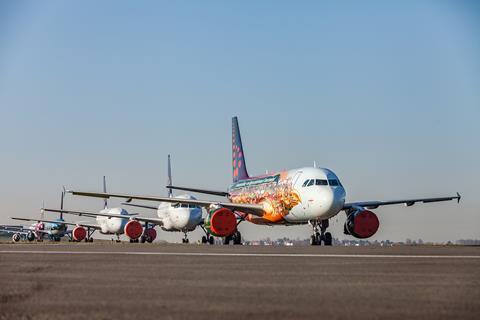 The airline says it will cut "marginally profitable and unprofitable routes" and reduce the number of aircraft in its fleet to 38 from 54. Cirium fleets data shows that Brussels Airlines operates a fleet of Airbus A319 and A320 narrowbodies in addition to 15 A330 widebodies.
The carrier will cut 25% of its workforce and says it will try to "reduce the number of forced dismissals to an absolute minimum". It adds that it has requested financial support from parent company Lufthansa and from the Belgian government.
Air travel demand is expected to recover to a "new normal" in 2023, says Brussels Airlines, and by making these cuts the airline expects to "grow again in a profitable way" once demand returns.
The airline temporarily suspended all flights on 21 March and is haemorrhaging €1 million ($1.1 million) a day in lost revenue and aircraft lease and maintenance costs.
"We started the year 2020 with positive results in terms of number of passengers and revenues, and for this summer we planned a strong leisure offer as we could compensate part of the business we lost due to the bankruptcy of Thomas Cook Belgium. But the coronavirus pandemic is hitting Brussels Airlines extremely hard," states chief executive Dieter Vranckx.
He adds: "This unprecedented crisis has worsened our financial situation, obliging us to take substantial and indispensable measures. The restructuring is urgently needed in order to survive the current crisis and to become structurally competitive in the future."