AirAsia Aviation Group expects to add 100 more aircraft across its airline units within the next five years – with its sister cargo unit taking "at least" 50 more freighters – amid optimism about growth prospects.
The group is also looking to lease six additional aircraft in the immediate term, primarily for its Indonesian and Philippines units.
Capital A chief Tony Fernandes says the airline group is "starting to talk about growth" after two years of the pandemic, which had all but decimated travel demand.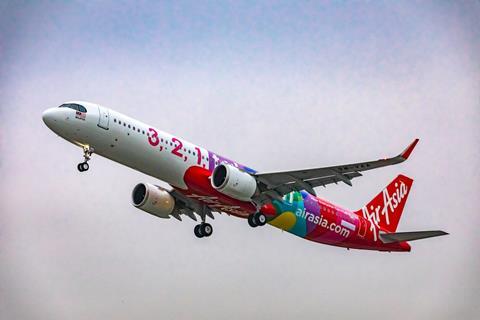 He was speaking in Singapore on 15 September, where AirAsia units marked their return to Changi Airport's newly-reopened Terminal 4.
Fernandes says that an immediate priority is to return its fleet of over 200 Airbus A320 family aircraft back to the skies, which he expects will happen by the first quarter of 2023. The group has around 110 jets in service now, and aims to have over 160 aircraft flying by year-end.
"We really need to get the planes back into operations, because we're paying for fixed costs…[and] we don't have the revenue from those assets," he adds.
The "next step" would be about growing the fleet, with new deliveries resuming from 2024.
The group has is a key customer for Airbus, with an orderbook for over 300 A321neos. AirAsia only took delivery of four examples before the pandemic devastated the airline sector.
Fernandes says Indonesia AirAsia is expected to be the first among the aviation units to report fleet growth by year-end, with 26 aircraft in operation, against a pre-pandemic fleet size of 24. Philippines AirAsia is also expected to increase its fleet size against pre-Covid-19 levels.
Still, he is quick to point out that while the Indonesian and Philippines units are seeing fleet expansion from the additional leased aircraft, "we are growing everything".
"We need [the new] aircraft in Malaysia, we need [them] in Thailand…it's just Indonesia and Philippines are growing really well, so we want to grow them to a bigger size," says Fernandes.
He also states that cargo and logistics will be a "very big part" of the group's near-term growth. Sister unit Teleport recently announced plans to lease three A321 freighters from lessor BBAM, as part of a capacity expansion.
Fernandes expects "at least 50 more freighters" in the next five years, though he did not elaborate whether these would be more A321 freighters or other aircraft types.
"So the growth is coming now but really, I've been focused on making sure we survive and [get] all our … planes back [flying]," he adds.
AirAsia Aviation swung to a positive EBITDA of MYR151 million ($33.3 million) – its first profit since the pandemic struck in 2020. The figure compares to a restated EBITDA loss of MYR125 million in the same period last year.