Canada Jetlines, which promised to launch a low-cost airline for years, has taken delivery of its first aircraft, an 11-year-old Airbus A320.
The Vancouver-based company, which has gone through numerous top management changes since coming onto the scene in 2015, says the aircraft has been leased from Jackson Square Aviation and it plans to launch operations in spring 2022.
"This is a milestone day for our team as we get to witness the inception of our branded fleet, with the delivery of our first aircraft," says Brad Warren, Jetlines' vice-president of maintenance operations, on 27 December.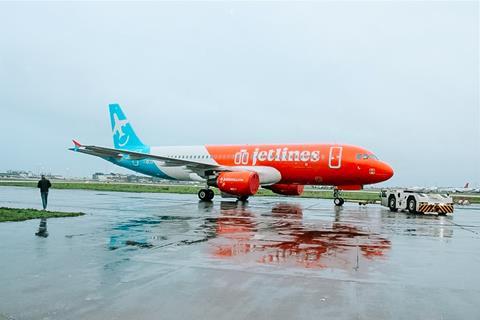 According to Cirium fleets data, the aircraft, MSN4175, was recently registered as OE-IAV and first went into service with Colombia's Avianca in 2010. It was also operated by Turkish budget carrier Pegasus, and now appears to have the new registration C-GCJL. The lease will officially commence on 15 February 2022, Cirium states.
Earlier this month, Jetlines' chief executive Eddy Doyle said the coronavirus pandemic had created "a rare opportunity" to launch a new airline. While fixed costs have remained stable, aircraft are much cheaper than they were prior to the global health crisis.
Jetlines executives said at the time that the carrier hopes to acquire two more A320s by July 2022, three more by June 2023 and five more by June 2024. In mid-2025 the airline aims to have a fleet of 15 aircraft. They will all be configured in a single class, with 180 seats.
"With a projected growth of 15 aircraft by 2025, Canada Jetlines aims to offer the best-in-class operating economics, efficient aircraft design, and accessible flight options without sacrificing quality or convenience," the company says.
The airline is looking to offer "more value and travel choices than competitors to coveted sun-destinations" when it launches. Its growth plan outlines a strategy which includes flights from Toronto to Canadian destinations, Mexico, the USA and the Caribbean in 2022, then expanding to offer direct flights to the Caribbean from Atlantic Canada in 2023, and entering the western Canada leisure market in 2024.
At the moment, however, Jetlines' website still only says it is "getting ready to serve the flying public in early 2022". No destinations or schedule have yet been published.
Jetlines is the second Canadian low-cost carrier in as many months to announce a launch of flight operations.
On 17 November, Calgary-based Lynx Air said it would begin flying with three Boeing 737 Max 8s in the first quarter of 2022 and hoped to grow to 46 jets in seven years. Those aircraft will have a single-class configuration, with 189 seats.