Canadian freight airline Cargojet intends to acquire five Boeing 767 Freighters and two 777Fs in the coming years – enabling it to meet increasing demand for air cargo.
The Mississauga, Ontario-based freight airline expects it will receive the 767Fs in 2021 and 2022, followed by the two 777Fs in 2023.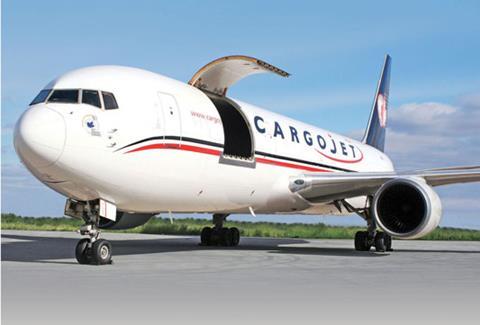 The company declines to say whether the incoming jets will be factory-built freighters – either new or used – or passenger jets converted to cargo aircraft.
Acquiring 777Fs would bring a third Boeing aircraft type into Cargojet's fleet.
At the end of September, the airline operated 24 Boeing freighters, including three 767-200Fs, 13 767-300Fs and eight 757Fs, according to Cargojet's most-recent fleet plan. The 767s include former passenger jets converted by both Boeing and Israel Aerospace Industries (IAI).
Converted 777-300ERs are available through a joint IAI-GE Capital Aviation Services project launched in 2019. Those companies call their variant the 777-300ERSF, and expect to deliver the first in 2023 to Kalitta Air.
"The Covid-19 pandemic has significantly increased demand for Cargojet's international air cargo services," the Canadian carrier says. "US and international air cargo growth opportunities have emerged as a result of rapidly evolving global supply chains and a lack of air cargo capacity."
Cargojet intends to fund the acquisitions with C$350 million ($277 million) raised through an offering of stock, it said on 12 January.
The funds will also help Cargojet pay for a new hangar and "additional land-based facility infrastructure in Canada", it adds.