US commuter airline Cape Air has firmed orders for 10 additional Tecnam P2012 Travellers, part of its ongoing plan to replace Cessna 402Cs with the new Italian aircraft.
Cape Air is the nine-passenger P2012's launch customer and has said it intends to purchase at least 100 of the Lycoming TEO-540-C1A-powered aircraft.
The airline received its first P2012 in 2019 and placed the type in service in February 2020. Cape Air now has 20 P2012s in its fleet.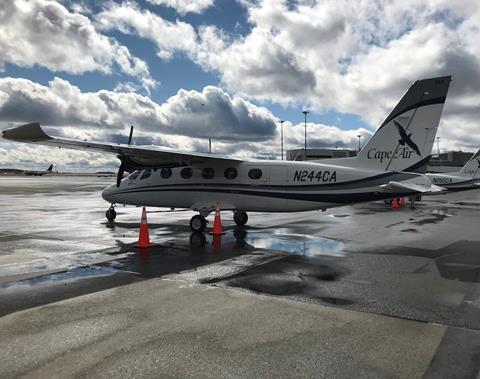 Tecnam will produce Cape Air's next 10 P2012s this year, it says on 30 March. Additionally, Cape Air has secured options to acquire 10 P2012s from Tecnam's 2022 production plan, and 10 produced in 2023, the manufacturer says.
The deliveries are part of Cape Air's "final target of [acquiring] 100 aircraft to replace its legacy aircraft fleet", Tecnam says.
Cape Air did not immediately respond to a request for comment.
P2012s have 950nm (1,760km) range and a maximum cruise speed of 194kt (359km/h), according to Tecnam. The Lycoming piston engines throw off 375hp (280kW) each.
Cessna 402Cs have long been the backbone of Cape Air's fleet but have logged decades of airline work. Some of Cape Air's 402Cs were manufactured more than 40 years ago, according to Cirium fleets data.
Cape Air has said the P2012s have similar economics to the 402Cs, which are powered by Teledyne Continental 0-520 TSIO-520 piston engines.
But the new P2012s have wholly modern technology that includes Garmin-manufactured avionics.
The Hyannis, Massachusetts-based airline flies a series of routes in the Northeast USA, linking the islands of Nantucket and Martha's Vineyard to the mainland, and operating other flights that radiate from Boston. Cape Air has smaller operations from Montana, the US Midwest and Puerto Rico.
It is now operating P2012s from Boston and on Midwest routes, according to Cirium.