Cape Air has become the first operator to begin revenue flights of the Tecnam P2012 Traveller, having dispatched the type on an inaugural commercial flight from its Hyannis base to Nantucket island on 22 February.
The Cape Cod, Massachusetts-based carrier, which is using P2012s to replace some 80 Cessna 402Cs, has since placed several P2012s into service as it evaluates the type's performance. The aircraft have also operated Hyannis-Boston and Boston-Nantucket flights.
"The aircraft made it around our key markets," says Cape Air.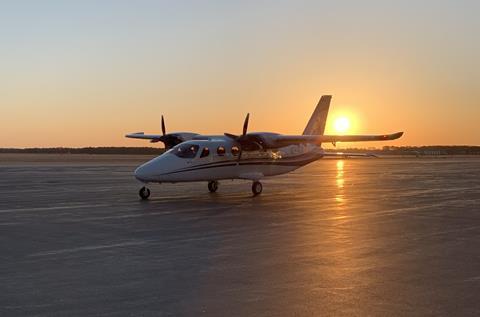 The carrier, one of the USA's few truly independent regional airlines, received its first two P2012s in October 2019 now has five P2012s in New England.
Four more of the Italian-made 11-seat, nine-passenger aircraft are currently being ferried to Cape Cod, the airline says.
Cape Air will continue integrating P2012s into its New England network, where it has the greatest concentration of pilots, mechanics and other staff, before deploying the types to "more permanent locations".
The airline intends to send one aircraft to Marion, Illinois for revenue flights starting on 4 March. Cape Air flies from Marion to Nashville and St Louis. The airline has also talked of deploying P2012s from its base in Billings, Montana.
P2012s are powered by twin Lycoming TEO-540-C1A piston engines and have 950nm (1,760km) range. Cape Air says the aircraft have similar efficiency as 402Cs, but have better performance and modern avionics.