Spicejet has agreed a debt-for-equity deal with Carlyle Aviation Group under which the aircraft lessor will take a stake in the Indian low-cost carrier and cargo unit SpiceXpress and Logistics.
Under the proposed restructuring, outlined in a stock market statement following a board meeting today, SpiceJet will issue equity shares to Carlyle and its affiliate entities which will convert existing lease liabilities to up to $29.5 million at a price of Rs48 ($0.58) per share. It will also swap aircraft lease liabities covering up to $65.5 million into compulsory convertible debentures (CCDs) of SpiceXpress and Logistics.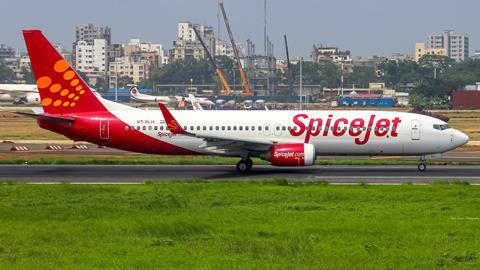 Under the latter deal SpiceJet has agreed to transfer its cargo business to SpiceXpress and Logistics through a mix of equity shares and CCDs. The latter is set to operate the cargo business from the start of April.
"As a part of ongoing restructuring with aircraft lessors Carlyle Aviation Partner and other aircraft lessors, all these CCDs will be transferred to those aircraft lessors who agree to exchange their lease liabilities for an aggregate amount equivalent to total nominal value of such CCDs," SpiceJet says.
"This restructuring will substantially reduce the existing liabilities of the company and will help in fund-raising for the business operations of the company."
In a separate deal related to a restructuring of an agreement with aircraft lessor Castlelake, SpiceJet has agreed to acquire a pair of Boeing 737-800s by purchasing an Irish leasing unit, AS Air Lease 41, from the lessor.
SpiceJet is also proposing to seek authority to raise funds through a placement to institutional investors. Such a placement could raise up to Rs2,500 Crore.
The Indian carrier earlier this month announced a pre-tax and net profits of just over Rs1 billion for the three months ended December 2022. That was achieved on a upturn in demand and yields for the quarter and marked a sharp improvement on the Rs8 billion it lost in the second quarter – when it was hard hit by higher fuel costs. SpiceJet posted net loss of over Rs15 billion for the first nine months of the year ending March 2023.