Cathay Pacific has given an indication of the timeline surrounding deferrals of its Boeing 777-9 aircraft, confirming that the widebodies will only be delivered "beyond 2025".
Cathay has 21 777-9s on order, though the fate of the widebodies has been uncertain in recent months.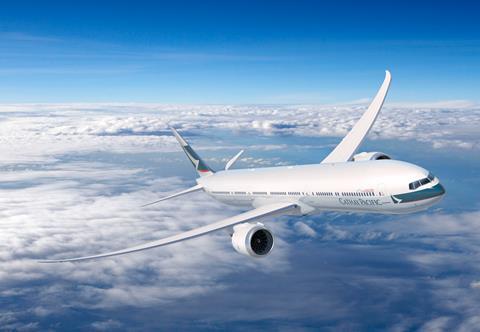 In July the carrier said it was in "advanced negotiations" with Boeing on the 777-9 deferrals, but gave no further details. It later reiterated in August that it was deferring — not cancelling — its 777-9 orders.
Cathay ordered 21 777-9s in 2013, at a list price of about HK$58 billion ($7.5 billion). At the time, the carrier stated that the widebodies were due to be delivered between 2021 and 2024.
At a media briefing following the announcement of a group-wide restructuring exercise, Cathay Pacific Group chairman Patrick Healy adds that there is no change to existing disclosures about aircraft deferral timelines.
This means that the agreement it reached with Airbus in July about delaying delivery of A350s and A321neos by up to two years still stands.
Cathay Pacific Group on 21 October announced broad restructuring measures, which include laying off 5,900 employees — the bulk of them based in Hong Kong — as well as shuttering the Cathay Dragon brand and integrating it into mainline Cathay operations and that of low-cost unit HK Express.
These newly-announced measures "are in addition" to the existing cash conservation measures the group had previously announced, including fleet deferrals, says Healy.
Taken together, Healy notes that the measures will cut monthly cash burn by around HK$500 million. Cathay estimates its monthly cash burn to be in the region of between HK$1.5 to 2 billion.
Cathay has been hard hit by a collapse in travel demand arising from the coronavirus outbreak. The carrier reported a record operating loss for the six months ended 30 June, and had already moved about 40% of its fleet to long-term storage locations overseas.
With Cathay Dragon ceasing operations effective immediately, Healy says the airline's fleet will be "incorporated into the Cathay Pacific fleet". This includes the A321neos that the regional wing was due to take delivery of this year.
Cirium fleets data indicates Cathay Dragon has 16 A321neos on order, in addition to 26 A330s and 20 A320 family aircraft.
Explaining the move to shutter Cathay Dragon — which began life in 1985 as Dragonair — Healy says it comes as part of a shift towards a "more focused, more efficient and more competitive group".
"[The] reality is that what we need to do is to focus our efforts on a single premium full service carrier brand, which will be Cathay Pacific, complemented by a single low cost leisure brand in [HK Express]," Healy adds.
He also downplayed any notion of the Cathay Dragon brand being resurrected one day.
"[It is] safe to say that we certainly won't be seeing the return of the Cathay Dragon brand. In terms of network, it is absolutely our intention to to continue to build a network back up to its previous scale, including those destinations, which heretofore have been serviced by [Cathay Dragon]," he states.