Philippine low-cost carrier Cebu Pacific Air is considering putting more aircraft in long-term storage, as it weighs a volatile demand environment amid the coronavirus pandemic.
The carrier has 14 aircraft in long-term storage at Asia Pacific Aircraft Storage in Alice Springs, Australia, says Alex Reyes, vice president for cargo at Cebu Pacific.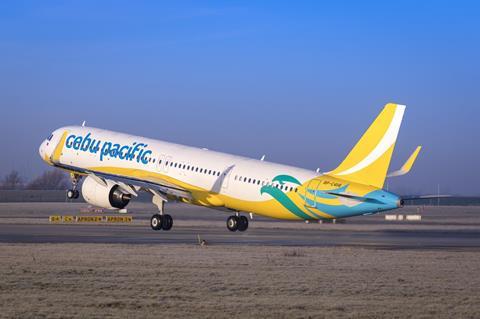 These comprise seven Airbus A321s, two A330s, four ATR72-600s, and one A320.
"We are looking to put more aircraft for long-term storage, but this is still under study given volatility in market demand and travel restrictions," says Reyes.
Cirium fleets data indicates that overall the airline has 30 aircraft in service and 23 in storage. It also has 56 aircraft on order from Airbus. These comprise 24 A321neos, 16 A320neos, and 16 A330-900s.
The airline's in-service fleet comprises 12 A320s, seven A321neos, six A330-300s, and five A320neos.
"We have had positive discussions with Airbus and our engine suppliers regarding our pending orders," says Reyes.
"The current plan is in line with our conservative forecast in the coming years, given our current situation. We will proceed as planned per our long-term vision, which includes the continuation of an orderly exit strategy of older aircraft that began before COVID-19."
He adds that the airline continues to target sale & leaseback transactions, per its pre-pandemic plans.
Cebu Pacific has been working to restore flights after operating less than 10% of its domestic network from June to November. It is now operating 400-450 flights weekly to 28 domestic and eight international destinations.
In its third quarter ended 30 September, Cebu Pacific and its units reported an operating loss of Ps6.7 billion ($139 million), reversing the Ps873 million quarterly operating profit it made last year.
Revenue for the period plummeted 89% to Ps2 billion, outpacing a 52% year-on-year decline in expenses. The revenue decline was led by a dramatic 97% drop in passenger revenue year on year.
Updated with paragraph detailing Cebu Pacific's in-service fleet.