China Airlines has placed an order for four additional Boeing 777 freighters, with deliveries slated to begin from 2023.
The announcement will take the total number of 777Fs in the Taiwanese carrier's fleet to 10 examples by 2024.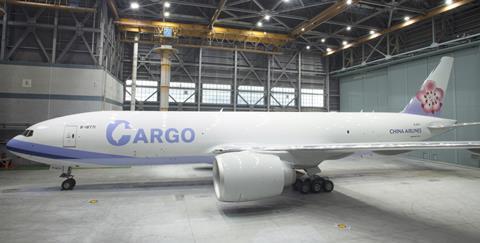 "The ongoing fleet acquisition programme will boost operating performance by balancing network development and market movements against the aircraft replacement schedule," states China Airlines, which also operates 18 747-400 freighters.
The airline took delivery of its first 777F in 2020, and now operates three examples. It states that two more are slated to be delivered this year, and another in 2023.
The aircraft order comes as China Airlines reported strong cargo performance amid the coronavirus pandemic. For the year ended 31 December, the SkyTeam carrier disclosed cargo revenues of more than NT$100 billion ($3.6 billion) — the highest in its 62 years of operations.
With passenger travel demand in the doldrums amid travel restrictions, China Airlines has pivoted to what it calls a "cargo-centric business model". In 2021, the airline mounted around 540 cargo flights a month, averaging around 120 flights weekly.
China Airlines, along with compatriot EVA Air, swung back to profitability in the third quarter of 2021, amid a steady rise in revenue. In previous quarters, both carriers have pointed to a strong cargo performance as a key factor in boosting their earnings.