China Airlines has ordered 16 Boeing 787-9s, as the airline eyes a "post-pandemic boom" in travel demand.
The order is valued at around $4.6 billion, according to a stock exchange filing, and includes options for eight more aircraft, as well as options to convert to the larger -10 variant.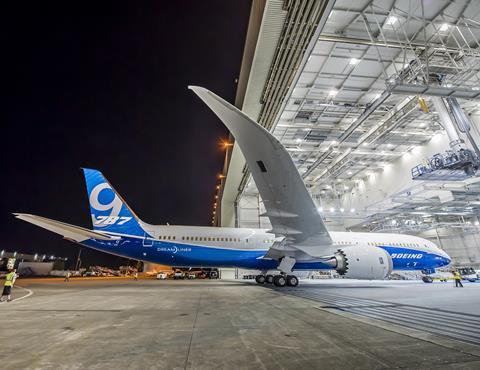 Delivery of the 16 787s, which will be powered by GE Aviation GEnx engines, is expected to commence in 2025.
The Taiwanese airline states that 787s will "become the mainstay" of its medium-haul widebody fleet, and will replace its existing fleet of 18 Airbus A330-300s.
It selected the 787 following a widebody evaluation campaign which kicked off in 2018. The coronavirus pandemic in 2020 put pause to renewal plans, but the airline resumed evaluation in September 2021.
The order also marks the culmination of fleet renewal for the SkyTeam carrier: it took delivery of its first A321neo in November 2021, replacing its aging 737-800s, and is currently flying A350s and 777-300ERs for long-haul flights, which replaced its A340s and 747s.
China Airlines adds that the 787s – with its "excellent cargo-carrying capacity"– will be "a valuable addition" to its existing capabilities.
The move makes China Airlines the second Taiwanese 787 operator. Compatriot EVA Air has 10 787s in service, with a further 11 more on order.