China Airlines has taken delivery of its first Airbus A321neo, which it will operate on regional routes, as it unveils updated cabin products for the narrowbody.
The SkyTeam carrier's first A321neo, powered by Pratt & Whitney PW1100G engines, is the first of six jets leased from US firm Air Lease.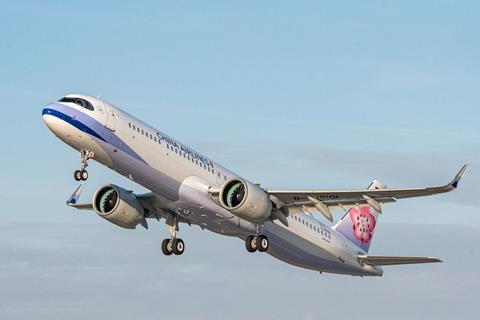 China Airlines had in 2019 disclosed that it has entered a provisional agreement for 11 A321neos, with another 14 examples on lease. The A321neos will replace the carrier's existing fleet of Boeing 737-800s, and will "become China Airlines' mainstay on regional routes", says the airline.
The aircraft seats 180 passengers across two classes – 12 in premium business class, as well as 168 in economy class. The carrier says it has "fine-tuned" its regional cabin products, including having fully-flat business class seats, as well as featuring contactless inflight entertainment systems.
It adds: "In a first for the [Taiwanese] airline industry, smart link support has been introduced by China Airlines. All passengers can now connect to the inflight entertainment system via their personal mobile phone and Bluetooth headphones."
China Airlines states that the aircraft will now undergo "preparation and certification" processes in Taiwan, before service entry.
While it did not delve into specifics, the airline says the A321neos will fly to Northeast Asia, Southeast Asia, as well as to Mainland China, "in response to travel and cargo markets".