Two of China's three largest airlines are set to restart deliveries of Boeing 737 Max aircraft this year, a move that provides some clarity about the fate of the type in one of Boeing's key markets.
In fleet plans outlined as part of their annual results, both China Eastern Airlines and China Southern Airlines committed to taking delivery of new 737 Max aircraft from this year over the next two or three years.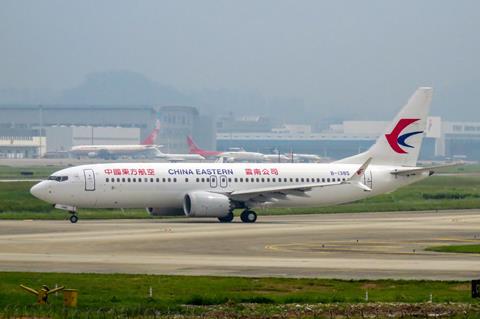 Only Air China, the last of the 'Big Three' carriers, has held off resuming deliveries through 2025, according to its fleet outlook disclosed 30 March. Cirium fleets data shows that the Beijing-based airline and its subsidiaries have more than 20 examples on order.
China Eastern expects to take two 737 Max aircraft this year, and six aircraft in 2024. According to Cirium fleets data, the airline has six Max 8s on order, while its subsidiary Shanghai Airlines has another eight on order. The airline did not indicate any 737 Max 8 deliveries for 2025.
China Southern lists taking 37 737s this year, and another 35 jets in 2024, and 31 new 737s in 2025. Fleets data shows the airline to have 34 737 Max 8s on order, an indication that the airline could be looking at expanding its orderbook.
China Southern was the country's first carrier to resume flying the 737 Max in January, after an operational hiatus of nearly four years.
The 737 Max was grounded globally in 2019 following two fatal crashes. While Chinese regulators lifted an operational ban of the type in 2022, Chinese carriers have been less than eager to return the type to service.
Previous fleet forecasts from the 'Big Three' also excluded deliveries of 737 aircraft in the near term, adding to uncertainty over the type's future in China.
Boeing on 23 March said Chinese carriers are returning more aircraft to service, adding that it was mulling when to restart deliveries to Mainland China. Of the 97 737 Max 8s still parked, around 30 examples have been returned to service, according to Boeing's finance chief.
This marks a change in sentiment from about six months ago, when Boeing flagged uncertainty over the outlook for the 737 Max in China, noting that it had not notched a significant order for the type from Chinese carriers in recent years.