China Eastern Airlines expects to take delivery of the world's first Comac C919 narrowbody in the second half of the year, as it removes the Boeing 737 Max from its delivery forecast through 2023.
The Shanghai-based carrier — disclosing its fleet plans as part of its half-year financial results — will just receive one C919 this year, before taking two more in 2022, and the last two C919s in 2023.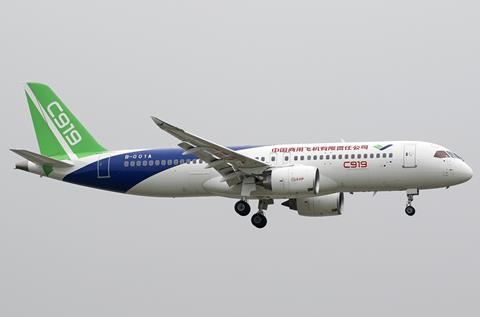 The delivery timeline is similar to that shared during its 2020 full-year results in late-March.
Earlier in the same month, China Eastern firmed up its purchase contract with the Chinese airframer for five narrowbodies, which are likely to operate with its low-cost OTT Airlines unit. It follows the airline's signing of a letter of intent for 20 C919s in 2010.
In the same fleet forecast, the SkyTeam carrier removed any delivery forecast for the 737 Max, which remains grounded in China following two fatal crashes in 2018 and 2019.
The carrier in its annual results for 2020 had hinted that the 737 Max could be delivered as early as 2023 — the first possible indication of the fate of the 737 Max order book in China.
In its latest fleet plan, China Eastern states: "As at the date of this report, the 737 Max 8 has been grounded, so the delivery plan of this aircraft has not been included in the future planning."
The change comes as the 737 Max embarks on the start of what could be a long-drawn recertification process in China, the last major economy in the world to continue upholding the type's flight ban.
Compatriot Air China, which also has 737 Max aircraft on order, did not indicate when it expects deliveries to resume, casting uncertainty on the fate of the popular narrowbody.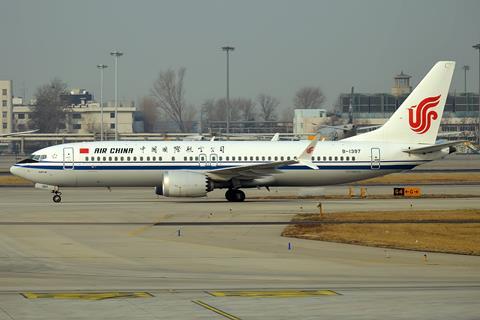 China Southern Airlines, the largest of the 'Big Three' Chinese carriers, did not provide a fleet plan in its half-year results.
In their respective fleet forecasts, both China Eastern and Air China tweaked delivery and retirement estimates between 2021 and 2023.
Air China, for instance, has upped the number of aircraft it intends to retire, with more Airbus A330s to exit the fleet than previously stated.
2021

2022

2023

March forecast

August forecast

March forecast

August forecast

March forecast

August forecast

Deliveries

59

55

24

34

14

14

Retirements

6

8
(+2 A320/A321)

18

22
(-2 A320/A321)
(+6 A330)

14

17
(+3 A330)
Source: Air China
It now plans to retire 22 aircraft in 2022, compared to 18 previously disclosed. In 2023, it intends to retire 17 aircraft, three more than previously stated.
China Eastern, meanwhile, appears to have deferred A350 deliveries by at least a year.
2022

2023

March forecast

August forecast

March forecast

August forecast

Deliveries

52

49
(-3 A350)

57

14
(-46 737 Max)
(+3 A350)

Retirements

9

9

16

16
Source: China Eastern
Previous forecasts showed the airline expecting to take eight A350s by 2022, but its latest plan indicates five jets to be delivered in 2022, with the remaining three a year later.