China Southern Airlines has taken delivery of a pair of Airbus A319neos, becoming the first airline operator of the smallest and least-popular Neo variant.
The two aircraft, registered B-328A and B-328C, were delivered on 18 February to the Guangzhou-based carrier, according to Cirium fleets data.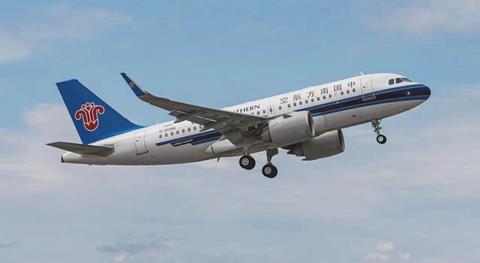 Powered by CFM International Leap-1A engines, the narrowbodies are configured with 136 seats in a three-class layout, says China Southern. It has not specified the destinations that will be served by the re-engined twinjets, but media reports have indicated that the carrier is keen to operate it at high-elevation airports.
The A319neo, the smallest member of the A320neo-aircraft family, has proved markedly less popular than its larger siblings: Airbus has taken orders for just 70 units, according to the airframer's latest order and delivery data, compared with 3,752 for the A320neo and 4,037 for the A321neo.
Prior to the deliveries to China Southern, just four examples had been handed over, all to VIP operators, which account for seven of the total orders.
China Southern is not listed as a customer for the aircraft, though Airbus has 30 orders for undisclosed customers, its data shows.
US low-cost carrier Spirit Airlines has the biggest commitment for the variant, with 31 jets on order. The only other known customer is Air Cote d'Ivoire, with two examples on order.
Cirium data shows that China Southern also has nine A319ceos in operation.