Delta Air Lines is acquiring two more second-hand Airbus A350s, it said in an earnings release today, with delivery expected in the final quarter of this year.
That brings to 38 the number of "gently used" aircraft the SkyTeam carrier has announced it is acquiring in 2021.
"These opportunistic acquisitions are consistent with the broader fleet strategy, complementing other actions taken over the last 18 months as the company accelerates fleet renewal efforts and prepares for continued recovery," Delta states. "Renewal efforts progress Delta towards a simpler, more efficient and sustainable fleet while also elevating product and customer experience."
In July, Delta said it would add 29 used Boeing 737-900ERs and seven used A350-900s to its fleet, with delivery expected by the first quarter of 2022.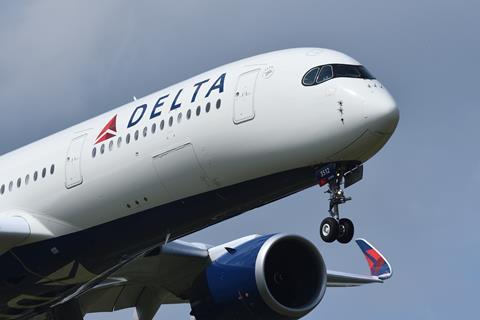 The seven A350s are being leased from AerCap, with Cirium fleets data indicating at least some of the aircraft were previously in service with LATAM Airlines Group, which removed the type from its fleet as part of restructuring under US Chapter 11 bankruptcy protection.
The 737-900ERs are being delivered through Castlelake, with Cirium fleets data suggesting at least some of the jets were originally in service with Lion Air.
Delta does not specify the variant or source of the two A350s announced today.
Cirium data shows that out of the 771 aircraft in service with Delta on 13 October, 15 are A350-900s and 130 are 737-900ERs.
Delta's quest for newer aircraft follows the retirement of many of its older 777s, McDonnell-Douglas MD-88s and MD-90s last year.