Delta Air Lines has firmed orders for 25 Airbus A321neos and pulled forward A350 and A330 deliveries, reflecting the airline's anticipation that passenger demand will accelerate in coming years.
The Atlanta-based carrier, which disclosed the move in a 22 April filing with the US Securities and Exchange Commission, also took options to purchase another 25 A321neos.
The airline now has 125 firm orders and 100 options for A321neos with the Toulouse-headquartered airframer.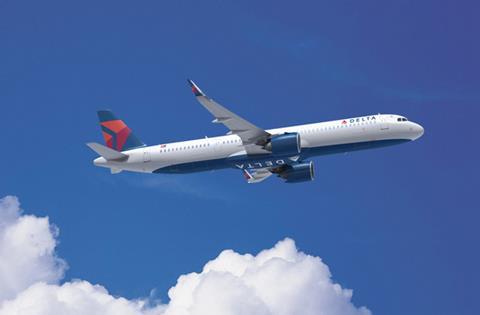 Delta also accelerated delivery of two A350-900s and one A330-900; it now plans to receive those jets during the second half of 2022.
The moves are a part of Delta's fleet renewal, which promises cost savings and improved fuel efficiency.
"With our customers ready to reclaim the joy of travel, this agreement positions Delta for growth while accounting for the planned retirements of older narrowbody aircraft in our fleet, addresses our carbon footprint, increases efficiency and elevates the customer experience," says Mahendra Nair, the carrier's senior vice-president for fleet and tech-ops supply chain.
The first A321neo will join Delta's fleet in the first half of 2022. The jets will be powered by Pratt & Whitney PW1100G turbofans.
The cabins will be outfitted with 194 seats in three classes: 20 in first, 42 in Comfort Plus and 132 in main economy.
The carrier adds that the aircraft will be deployed in its domestic network, complementing its existing A321ceo fleet of more than 100 aircraft.
"These moves reinforce Delta's strategic fleet objectives to boost operational simplification, achieve economies of scale and drive productivity," the airline says.
Last week, Delta reported a first-quarter 2021 loss of $1.2 billion. But, based on revenue and booking trends, it anticipates returning to profitability in the third quarter as as domestic travel ramps up.