Delta Air Lines marked the end of an era on 2 June when it retired its final McDonnell Douglas MD-88 and MD-90 aircraft, closing 34 years during which the types served as workhorses in the fleets of US carriers.
The retirements of the twin-engined single-aisle aircraft come after the coronavirus decimated the passenger air transport industry worldwide, prompting carriers to reassess fleet needs and accelerate the shift to more modern and efficient aircraft.
Until recently, Delta and American Airlines were the only two US scheduled carriers to still operate the types, which could carry up to about 150 passengers. American retired its MD-88s in September 2019. No other US airlines operate the types, according to Cirium fleets data.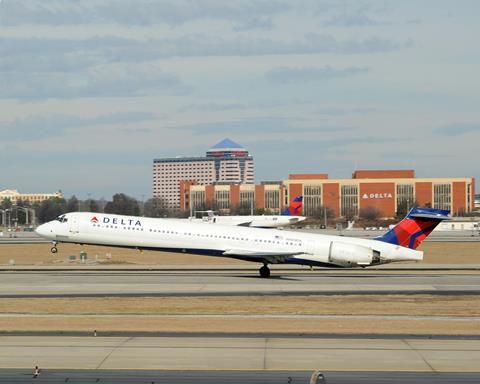 Delta's final flights with the aircraft arrived at the carrier's home base of Atlanta Hartsfield International airport on the morning of 2 June. Flight DL88, the final leg operated by the airline's last MD-88, arrived from Washington-Dulles International airport, and the final MD-90, operating flight DL90, arrived from George Bush Intercontinental airport in Houston.
In April, the airline said it would be acellerating retirement of MD-88s and MD-90s, as well as its 18 widebody Boeing 777s, as it streamlines and rightsizes its fleet for a new era following the global coronavirus pandemic.
"The accelerated retirement schedule of both aircraft is a result of the COVID-19 pandemic as we reduce capacity systemwide," the airline said at the time. "Delta continues to evaluate its broader fleet plan and will consider additional aircraft retirements to focus on a modern, simpler fleet going forward."
The aircraft will be heading to Blytheville, Arkansas for storage.
Prior to the coronavirus-driven fleet reduction, Delta said it had 47 MD-88s and 29 MD-90s in operation. They were a mainstay of the airline's narrowbody fleet for short- and mid-range domestic flights for more than 30 years.
Born as derivatives of the DC-9 developed in the 1960's, the 149-seat MD-88 entered Delta's fleet in 1987. The slightly larger 158-seat MD-90 following seven years later, with Delta being launch customer. At the height of their usage, in 2014, the two types accounted for more than 50% of all departures from Atlanta, and 900 of the airline's more than 3,000 flights every day, the airline says.
Delta, along with Hawaiian Airlines, continues to operate another variant of the DC-9, the Boeing 717, originally known as the MD-95 before McDonnell Douglas merged with Boeing in 1997. Hawaiian uses the type for interisland routes, cycling each up to 16 times every day.
Several airlines in South America, Eastern Europe and Asia still use the aircraft for passenger operations, Cirium shows.