Amazon Air has purchased seven Boeing 767-300ERs from Delta Air Lines, growing its fleet as the shortage of cargo capacity during the coronavirus pandemic increases opportunities to generate revenue from air freight.
Delta retired the seven 767s during the second quarter. The Atlanta-based carrier spent 2020 accelerating the removal of its older aircraft to make room for the eventual delivery of 223 firm orders of Airbus aircraft, Cirium fleets data shows.
Seattle-based Amazon Air already has 74 aircraft in service including 22 Boeing 737NGs and 52 767s. The cargo carrier founded in 2016 grew its fleet rapidly from 68 aircraft in September. This latest deal with Delta would place Amazon close to its ambition to have a fleet of 80 aircraft by the end of 2021.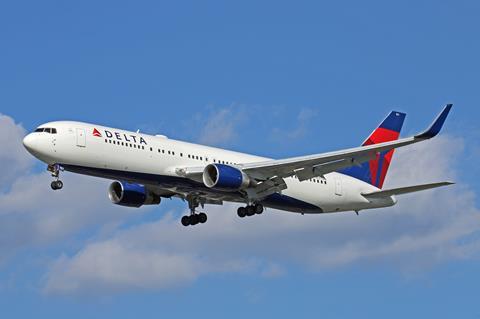 It is unclear whether Amazon will arrange a sale-and-leaseback for the 767s purchased from Delta. All the existing 74 aircraft in Amazon's fleet are leased and operated on its behalf by other airlines, including Sun Country Airlines, Air Transport International, Atlas Air and its subsidiary Southern Air.
Airlines continue to burn millions of dollars every day during the pandemic downturn in travel demand, which could provide more opportunities for Amazon to purchase aircraft at relatively low prices.
Those who can provide cargo aircraft have been somewhat insulated from the pandemic downturn, and IATA forecasts that air freight will represent a third of airline revenue during 2021. Amazon has been well-positioned to meet the demand for home deliveries as people continue to shelter in place.
Half of global air freight in 2019 was carried in the bellies of passenger aircraft, so the grounding of thousands of aircraft depressed supply even more than demand. The 28% year-on-year decline in global air freight traffic in April was the sharpest drop IATA had ever recorded, yet capacity that month dropped even lower by 42%.
Despite a recovery in air freight during 2020 measured in global cargo tonne-kilometres (CTKs), IATA reports that during October air freight demand was 6.2% lower year on year, while global capacity measured in CTKs was 23% lower year on year in October.
As more passenger aircraft return to the sky and cargo capacity nears 2019 levels, demand for air freight may not keep pace with that trend. Air freight was in a slump during 2019 amid trade disputes between the USA and China, which may not be resolved by the time coronavirus infections recede and international trade returns to a new normal. Amazon will have to balance the growth of its ground delivery network with the costs of maintaining a cargo carrier.
The expansion of Amazon Air also poses a challenge for the logistics network of its namesake e-commerce parent company. Amazon would have to compete with other cargo carriers including UPS and FedEx while maintaining relationships with them to complement their home delivery logistics chain. Tensions between these giants are greater in the field of ground deliveries, while in air freight Amazon relies mainly on North America while UPS and FedEx have more international air freight routes