Delta Air Lines has taken delivery of the first of 26 Airbus A321neo aircraft it expects to receive this year.
The Atlanta-based carrier says on 23 March that it has commitments for 155 of the type through 2027. Once all orders are fulfilled, the airline will have 282 of the type in its fleet.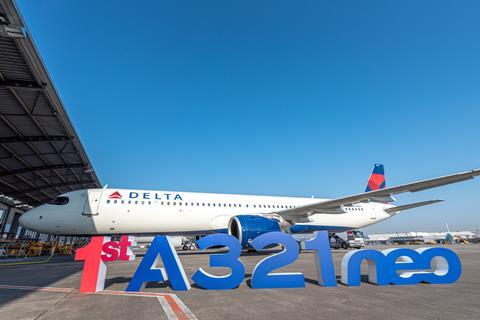 "The delivery of our first A321neo helps to usher in the next era of premium domestic service at Delta," says Mahendra Nair, Delta's senior vice-president of fleet and tech ops supply chain. "Not only do these aircraft offer the best customer experience in the industry, but these fuel-efficient airplanes further demonstrate our commitment to a more sustainable future."
The aircraft will have Pratt & Whitney GTF engines with 20% better fuel efficiency than the airline's current A321ceo fleet, Delta says.
The new A321s are configured with 194 seats, which include 20 first class, 42 "comfort plus" class seats and 132 main cabin economy seats. The new aircraft, which carries the registration N501DA, will go into revenue service in May.