Delta Air Lines has inked a partnership with communications company Viasat that will deliver a new branded high-speed wi-fi portal to passengers on more than 300 of its narrowbody aircraft.
The wi-fi portal will be available this summer to passengers on its newly delivered Airbus A321ceo jets, as well as its Boeing 737-900ER and some 757-200 aircraft, the Atlanta-based airline states. Delta hopes to eventually launch the wi-fi portal on all of its aircraft that currently use Viasat's technology.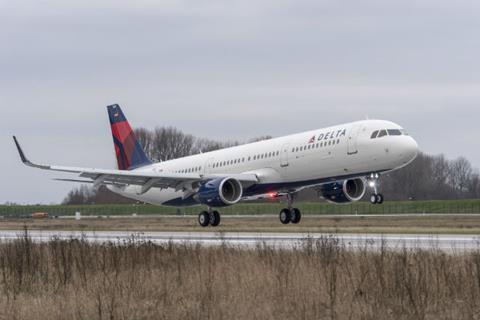 Passengers will have the option to purchase access to the new wi-fi service via seat-back screens and "personalise" their experience by mimicking their home or work content environment.
Delta has previously said that it intends to someday offer its passengers free wi-fi. Ekrem Dimbiloglu, Delta's director of brand experience, says that the new wi-fi portal is "a significant step on that journey".
Carlsbad, California-based Viasat will be installing on Delta's selected aircraft the latest version of its Ka-band IFC system, which will be compatible with the communications company's entire fleet of satellites, thus enhancing connectivity and the performance of streaming services.
Delta in 2020 accelerated some fleet retirements and restructured its Airbus order book as part of its pandemic cost-cutting strategy. The carrier's ongoing selection of aircraft for the wi-fi portal installation may give some indication into which jets will remain in its fleet over the long term.