Delta Air Lines will retire its Boeing 777 fleet by the end of 2020 as the coronavirus crisis continues to disrupt global travel, creating openings for airlines to permanently streamline fleets and save money by shifting to more-efficient aircraft.
The move will leave Delta with a single type of ultra-long-haul aircraft: Airbus A350s.
"We're making strategic, cost-effective changes to our fleet to respond to the impact of the COVID-19 pandemic while also ensuring Delta is well-positioned for the recovery on the backside of the crisis," says Delta chief operating officer Gil West on 14 May. "The 777 has been a reliable part of Delta's success since it joined the fleet in 1999 and because of its unique operating characteristics, opened new non-stop, ultra-long-haul markets that only it could fly at that time."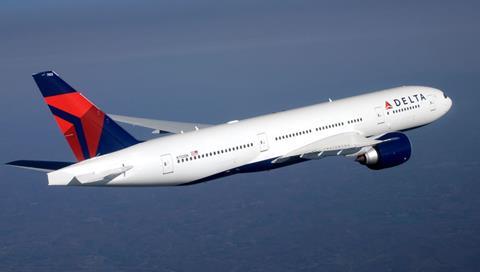 The Atlanta-based airline has 18 777s, including 10 of the long-range 777-200LR variant, according to Cirium fleets data. Nine of these are currently operating and nine are in storage.
Delta's first 777s joined the fleet 21 years ago, and the airline says it will replace them with its next-generation A350-900s which burn 21% less fuel than the Boeing jets.
Delta has nine A350s in service, four in storage and 12 on order, according to Cirium.
In April, Delta already had said it was accelerating the retirement of its 73 McDonnell Douglas MD-88 and MD-90 aircraft in June. So far during the crisis, Delta says it has parked more than 650 aircraft as it adjusted capacity to reflect the sharp drop-off in customer demand.
In past weeks the airline used 777s for cargo and repatriation flights between North American and cities in Asia, Europe and Australia.