Delta Air Lines will retire more aircraft earlier than planned in an effort to streamline its fleet and cut costs as the industry recovers from the shock of the coronavirus pandemic.
In a filing with the US securities and exchange commission, the Atlanta-based airline says it will be prematurely retiring three types in order to concentrate its flying on more efficient aircraft as passenger demand - and therefore revenue - continues to lag as the global health crisis drags on.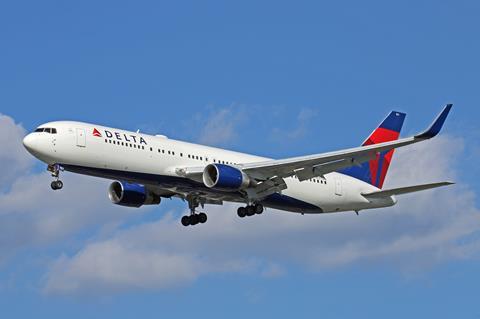 "Delta has decided to retire the company's Boeing 717-200 aircraft and the remainder of its 767-300ER aircraft by December 2025 and its CRJ-200 aircraft by December 2023, earlier than previously scheduled," the airline says in a filing with the US Securities and Exchange Commission on 25 September. "These plans are another step in Delta's fleet simplification strategy, which is intended to streamline and modernize Delta's fleet, enhance the customer experience, and generate cost savings."
According to Cirium fleets data, the carrier currently has 47 of the 717s in service with another 43 in storage. The 767-300ER fleet consists of 17 in service aircraft and 39 in storage. Delta has 22 Bombardier CRJ-200 aircraft, all of which are currently in storage.
Delta says that it "concluded that the carrying value of these aircraft was no longer recoverable when compared to their estimated remaining future cash flows". As a result, the airline will take a non-cash impairment charge of up to $2.5 billion during the current third quarter, which ends next week.
"Delta may continue to consider further opportunities for early aircraft retirements in an effort to modernize and simplify its fleet," the airline says in the filing.
On 2 June the airline retired its McDonnell Douglas MD-88 and MD-90 aircraft after the coronavirus decimated the passenger air transport industry worldwide, prompting carriers to reassess their future fleet needs and accelerate the shift to more modern and efficient aircraft.
Earlier in the year it also said it would be retiring its 18 widebody Boeing 777s by the end of this year, shifting all of its long-haul flying in the post-covid-19 era to the Airbus A350-900.