Beyond the near-term challenges from the coronavirus pandemic, Embraer believes Asia-Pacific airlines will seek to optimise their fleets through the adoption of more smaller jets.
Cesar Pereira is vice president, Asia-Pacific of Embraer Commercial Aviation. The Singapore-based executive's sales territory covers the entire Asia-Pacific region apart from China. In recent months he has been active on social media promoting what Embraer calls "right sizing" airline fleets through the use of regional jets.
Though the pandemic and associated travel restrictions have battered airlines globally, it has been especially devastating to airlines in the Asia-Pacific. Major domestic markets show some signs of life, but are operating at far lower capacity. International travel has all but ceased, amid a patchwork of travel bans and quarantines.
Pereira, however, stresses that it's important to take the long view.
"This whole situation is very unfortunate and it's affecting everyone," he tells FlightGlobal. "But we we've been through crises before like many others in the industry."
Pereira says that the region's airlines are focused on two things: near-term survival, and their business model for the post-coronavirus world. Given that the industry could take years to reach 2019's air traffic levels, airlines need to be ready not only for an eventual return to normalcy, but also for the next down cycle.
He stresses Embraer's long-held mantra that airlines can enjoy better flexibility by using a mix of aircraft, as opposed to operating larger narrowbodies even on thinner routes.
"The lack of flexibility airlines have with the bigger planes is wiping out most of the profits," he says. "What they can make in 10 years, they can lose in two or three months. The first thing is to recognise that there is a need for change."
Highlighting the benefits of fleet flexibility in challenging times, he notes that E-Jet customer Japan Airlines is deploying Embraers on domestic routes that normally use Boeing 737s, as there is simply less demand for seats.
"Once you go through the situation, what's next? Are you going back to the same mind-set? Same fleet? Same costs? Same OEMs that brought us here? The industry is cyclical and when [Covid-19] is gone and demand starts growing again…then comes another crisis."
Pereira maintains that regional jets operate with lower costs and, repeating Embraer's pre-Covid-19 view, can play a useful role in helping airlines avoid congested hubs through more direct services. Following the pandemic, wary passengers may be even less willing to travel through a congested hub than before.
"If passengers are afraid of taking one flight, can you imagine taking two?" asks Pereira. "Many passengers like to go point to point. One flight and they get to the destination and that's it."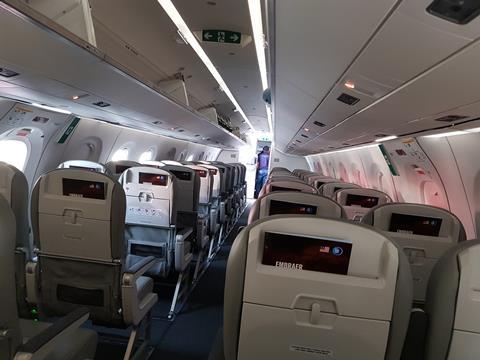 More broadly, he says that Embraer is involved in a number of "serious" sales campaigns in the region that could amount to 200 new aircraft. If potential opportunities for pre-owned Embraers are taken into account, another 50-100 aircraft can be added to this total.
Curiously, the company is seeing regional interest not just in its bigger E195-E2 offering, but also in the smaller E175-E2.
Embraer continues to see India in particular as a strong potential market. Cirium fleets data shows that just three ERJ-145s are operating with India's Star Air. Embraer has already cracked the Indian market, but had the misfortune of suffering well over 100 cancellations through the demise of customers such as Air Costa, Jet Airways, Paramount Airways, and Star Aviation.
Pereira says India is characterised by a massive population and very low yields, and that it's the only BRIC (Brazil, Russia, India and China) country where the regional jet has made little progress. He believes, however, that a breakthrough in India is inevitable at some point, noting that it has several major cities that are best served direct, as opposed to being served through big hubs at key cities such as Delhi and Mumbai.
Still, the coronavirus pandemic rolls on, forcing a battered airline industry to massively cut back expenditure.
"Airlines must recognise that a big airplane costs more [both] in the sky and on the ground," says Pereira.
He adds that while the big OEMs can offer good deals on aircraft upfront, operating a larger jet for 12 years can be expensive, particularly when the next crisis arrives – as it inevitably will.