Canadian aircraft lessor Chorus Aviation Capital has agreed to lease six ATR 72-600 turboprops to Irish regional start-up Emerald Airlines.
The leasing deal follows the announcement earlier this month that Emerald will begin operating regional flights for Aer Lingus no later than January 2023, replacing the Irish flag carrier's defunct former partner Stobart Air.
Chorus repossessed the six ATRs from Virgin Australia and Flybe – three from each carrier – amid the pandemic. It intends to deliver the aircraft to Emerald during a one-year period starting this month, the Canadian company said on 23 August.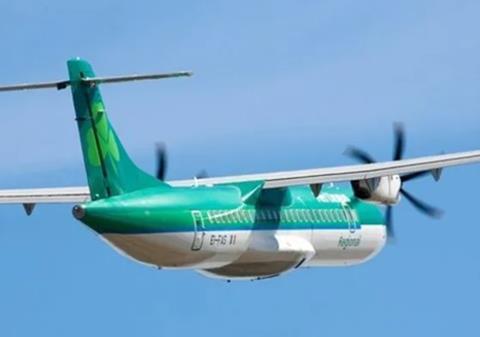 Stobart Air had operated 12 ATRs for Aer Lingus prior to ceasing operations in June amid the pandemic. The carrier's sudden closure led Air Lingus to scramble to find a new partner.
Emerald arose amid the upheaval. The carrier is backed by chief executive Conor McCarthy, who also heads aircraft maintenance company Dublin Aerospace and is a former executive at Ryanair and AirAsia.
Aer Lingus and Emerald revealed their partnership on 4 August. The deal calls for Emerald to operate ATRs for Aer Lingus for 10 years beginning on 1 January 2023, though the flag carrier said it was working to potentially advance the start date.
Routes covered by the agreement include those to "regional airports in the UK, the Isle of Man and Jersey, with options for network expansion to more regional airports", Aer Lingus said.
With the Emerald deal, Chorus has now placed 11 of the 13 aircraft it took back during the pandemic.