Emirates has warned Boeing that it will not accept its first 777-9 aircraft unless they are "performing 100% to contract", as the Middle Eastern carrier continues to lament a lack of clarity over when deliveries of the type will begin.
Speaking about the operator's travails with its 777X order during an Arabian Travel Market event on 24 May, Emirates Airline president Tim Clark said that he was "not altogether clear as to when we're going to get them".
Among Clark's concerns, "we have all the [737] Max stigma with regards to certification and how that may have to be looked at with regard to work they've already done [on the 777-9s]".
Boeing has "11 of our aircraft already built, by and large", he notes.
Furthermore, "I still haven't seen any data on propulsion, even though it's been in the test programme, flying", Clark states of the GE Aviation GE9X-powered widebody. "I've seen nothing on what the engines do."
The airline chief cites "issues on that aeroplane", warning Boeing that even when "they get that sorted", Emirates will "not accept an aeroplane, unless it is performing 100% to contract".
In response to Clark's comments, Boeing says it "continues to execute a rigorous test programme to demonstrate the safety, reliability and performance of the 777X. We remain committed to delivering an airplane that meets regulatory requirements and the high expectations of our customers".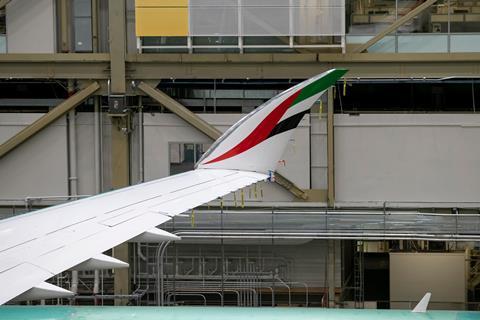 Emirates had been due to receive its first 777-9 in June last year but now says its first example of the widebody is due for delivery in late 2023.
"We always read that as [2024]" at the earliest, Clark says, citing his experience with previous programmes, with a further 18-month delay "very often" the reality.
That is "a pity", he continues, because "we have a load of 777-300ERs that are retiring".
Emirates had 171 777-300ERs in its fleet, Clark explains, but now "we've only got 146, because we've been letting them go and eventually, the 777-9 was going to… replace those ERs".
As things stand, "we don't have any visibility on that for three years", he says.
Amid delayed deliveries of new aircraft, Clark reiterates that the Airbus A380 is expected to play a key role in Emirates' fleet for the next 10 to 15 years.
The Dubai carrier is launch customer for the baseline 777-9 variant of the 777X, which began flight-testing on 26 January 2020 after development delays.
Cirium fleets data shows that Emirates has a total of 115 777X jets on order: 101 777-9s and 14 777-8s.