Boeing's 777X programme is in "a state of disarray", in the view of Emirates Airline president Tim Clark, who has revealed that the Middle Eastern carrier may not receive its first of the aircraft until as late as end-2025 – over five years later than scheduled.
"We should have had our first [delivery] in June last year, and so far we have no visibility on when the first one will arrive," Clark said during a webinar organised by Simple Flying on 7 April.
Clark says that, following discussions with Boeing Commercial Airplanes chief executive Stanley Deal, he expects the jets will begin arriving "either [at] the back end of '23, '24 or possibly even '25".
Cirium fleets data shows that Emirates has a total of 115 777X jets on order: 101 777-9s and 14 777-8s. Letter-of-intent commitments cover a further 11 777-8s.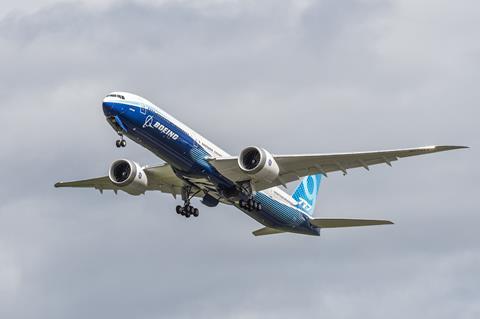 Boeing says it is working closely with global regulators on the 777X's development, including a rigorous test programme.
"Our team remains focused on executing this comprehensive series of tests and conditions to demonstrate the safety and reliability of the airplane's design," Boeing says. "It is diligent, deliberate work and we are pleased with the progress to date. We also are providing regular updates to our launch customers."
The airframer also highlights recent comments from 777X launch customer Qatar Airways that it expects to receive its first aircraft in 2023.
Clark says the absence of the aircraft makes it difficult for Emirates to plan its fleet and network strategy.
Emirates had planned to begin replacing some of its A380s with 777-9s, a strategy that would have enabled it to build capacity while retiring its oldest aircraft. Delays mean that such a move "has been shifted to the right, but we don't know by how much at this stage".
Amid the uncertainty, the Airbus A380 will play an ongoing role at the carrier for at least another 15 years.
The double-deck type has formed the backbone of the airline's fleet for over a decade, and Clark highlights that pre-pandemic the A380 accounted for 85% of profits and was "always full", proving popular with travellers across all seat classes, something that "we see continuing".
Use of high-capacity aircraft such as the A380 and 777X underlines Emirates' commitment to its hub-and-spoke strategy. Clark says: "I see no reason to adjust our business model whatsoever [because of Covid-19]."
He notes that most long-haul point-to-point routes remain uneconomical, while the use of a hub pushes down unit costs and allows income to increase "exponentially" as capacity is increased.
Clark adds that he expects a rapid return to flying in the second half of 2021 as vaccines are rolled out. Emirates' passenger numbers declined from around 4.5 billion in 2019 to around 500 million last year, but he asserts that "people's desire to travel hasn't changed".
"In the short term [there will be] a bow-wave of demand," he adds. This "will have to be accommodated by a diminished airline community in terms of capacity offered".
Updated to include Boeing comment