Ethiopian Airlines continues to pursue aggressive growth of its freighter fleet with long-term leases of three converted Boeing 767-300ERs from lessor Titan Aircraft Investments.
The state-owned, Addis Ababa-based airline is expected to receive the first aircraft this month, Titan's parent company Atlas Air Worldwide said in a 12 September statement.
The deal covers the sale-and-lease back of three Ethiopian Airlines 767 aircraft which are being converted to freighters.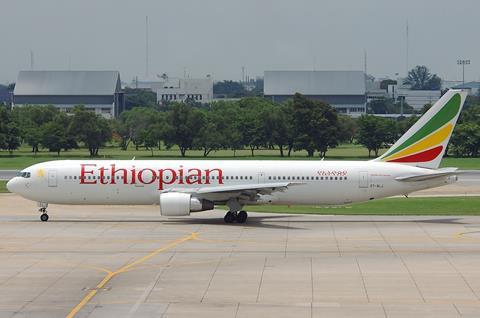 "We are delighted to welcome Ethiopian Airlines as a strategic customer and support its growing freighter fleet," says Michael Steen, president and CEO of Titan Aviation and chief commercial officer of Atlas Air.
The second 767-300ER is expected later this year, while the third is set for delivery in 2023, Atlas adds.
"This dry lease agreement will be fundamental to our fast-growing cargo operation as Ethiopian is a key global player in the air cargo business," Mesfin Tasew, the recently appointed CEO of Ethiopian Airlines Group, says.
Under "dry lease" agreements, aircraft lessees – in this case Ethiopian – operate the aircraft.
The three new aircraft will join Ethiopian's existing cargo fleet of nine converted 777s and four converted 737s. Cargo accounted for more than half of the airline group's $5 billion in revenue in the financial year ending 30 June 2022.
The order comes amid the airline's ambitious "Vision 2035" growth strategy, which includes the goal of nearly doubling its cargo and passenger fleet from 135 to more than 250 aircraft.