Ethiopian Airlines intends resume operations with Boeing 737 Max 8 jets in February 2022, nearly three years after the crash of one of its examples prompted the global grounding of the type.
The Addis Ababa-based carrier said on 27 December that it is in the "final stage" of returning the type to service, with first flight "expected on 1 February" next year.
"Safety is our top most priority at Ethiopian Airlines and it guides every decision we make and all actions we take," says Ethiopian Airlines chief executive Tewolde GebreMariam. "It is in line with this guiding principle that we are now returning the Boeing 737 Max to service."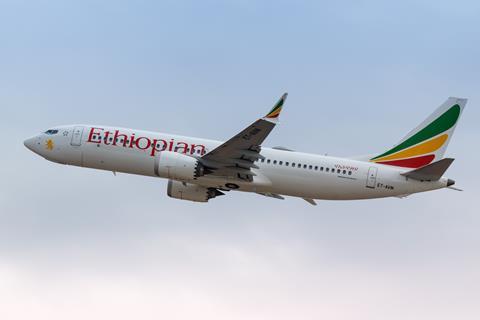 GebreMariam cites the type's recertification by regulatory bodies around the world and its return to service with "more than 34 airlines", which have completed "more than 275,000 commercial flights" with the Max over the past year.
He further notes that the Star Alliance carrier has taken "enough time to monitor the design modification work and the more than 20 months of rigorous recertification process and we have ensured that our pilots, engineers, aircraft technicians, cabin crew are confident on the safety of the fleet".
The crash of Ethiopian flight 302 on 10 March 2019 killed 157 people and came several months after the crash of a Lion Air Max 8 in October 2018.
Cirium fleets data shows Ethiopian has four 737 Max 8 jets in storage, with 25 on order.