Ethiopian Airlines has today brought the Boeing 737 Max back into service, almost three years after a fatal crash of one of its aircraft prompted the global grounding of the type.
The Star Alliance carrier had at the end of last year said it planned to return the type to service in February.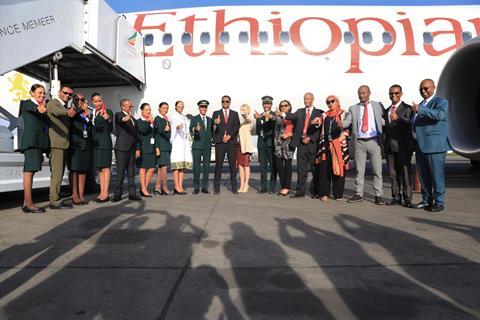 Ethiopian Airlines chief executive Tewolde GebreMariam reiterates that the carrier's decision to restore services with the Max comes after its recertification by regulators around the world and following the return to service of the type by 36 operators.
US regulators cleared the Max to fly again in November 2020, and Brazilian airline Gol was the first to bring the aircraft back into service the following month. China and Indonesian regulators, two of the last jurisdictions to clear the type, have both now paved the way for the Max to return to service.
"In line with our initially stated commitment to become among the last airlines to return the Boeing 737 Max, we have taken enough time to monitor the design modification work and the more than 20 months of rigorous recertification process and we have ensured that our pilots, engineers, aircraft technicians and cabin crew are confident on the safety of the fleet," says GebreMariam.
Ethiopian notes the Max has carried out more than 349,000 commercial flights and close to 900,000 total flight hours since the resumption of its operation a year ago.
The airline's executives and chairman, as well government officials and Boeing executives, were on board the first flight alongside customers.
Ethiopian Airlines has four Max aircraft in its fleet and further 25 on order – "some of which" will be delivered this year.