The Boeing 787-10 aircraft used for this year's ecoDemonstrator programme has been inaugurated into Etihad's fleet.
In partnership with Boeing, NASA and Safran Landing Systems, Etihad's 787-10 was the latest aircraft to be used as a flying testbed for a series of potential technological developments under the Seattle airframer's ecoDemonstrator initiative.
"As the first 787-10 to take part in the ecoDemonstrator programme, this very special aircraft stands testament to the innovation and drive for sustainable aviation that forms a core element of Etihad's values and long-term vision," states Tony Douglas, chief executive of Etihad Aviation Group. "This is in line with the tremendous strides being made by Abu Dhabi, and the UAE, in the research and development of viable solutions to combat climate change."
To celebrate its launch into commercial service, the aircraft has been fitted with a commemorative plaque, while its fuselage retains some of the ecoDemonstrator flight-test branding.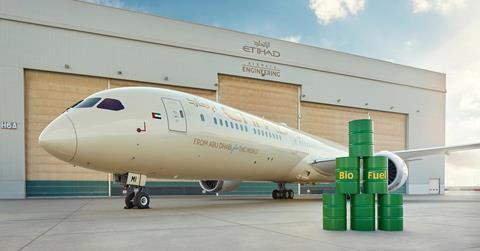 Boeing said in July that the Dreamliner was to be used for the evaluation of aircraft noise in flight, and of landing gear fairings intended to quiet the flow of air around a jet's gear.
Engineers were also planning to use the 787 to trial technology that digitally transfers air traffic control routings to jets, helping improve flight efficiency.
The Boeing 787-10 – registered A6-BMI – expands Etihad's fleet of 787s to 39 aircraft. It has cited the importance of twin-engine widebodies during the recovery from the Covid-19 crisis, with its 10 Airbus A380 aircraft grounded indefinitely.
Launched in 2010, the ecoDemonstrator programme evaluates new aircraft technologies – many related to safety and efficiency – using passenger and cargo jets, and in partnership with industry and government.
Since a first ecoDemonstrator flight in 2012, Boeing has used six jets to evaluate more than 165 technologies.