Etihad has decided to ground its entire fleet of 10 Airbus A380s "indefinitely", as it remodels its fleet around the Boeing 787 and A350-1000, chief executive Tony Douglas has disclosed.
Speaking during the World Aviation Festival on 22 April, Douglas comments that the A380 is "a wonderful product… but they are no longer commercially sustainable. So we have taken the difficult decision to park those machines up indefinitely."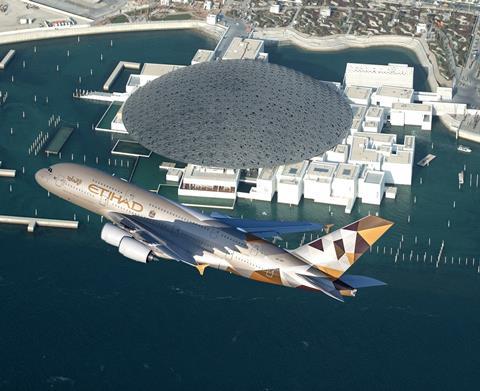 The move follows Air France's announcement last year that it was permanently ceasing operations by the widebodies, while Lufthansa has indicated the same.
Douglas also says the Gulf carrier intends to "exit" its 777-300ER fleet at the end, having already removed its Airbus A330s from service.
Cirium's fleet data shows the carrier has 10 A380s, 22 A330s and nine 777-300ERs in storage, with a further 10 777-300ERs still in operation.
The decision is part of Etihad's strategy of streamlining its long-haul fleet around two key aircraft variants in a bid to cut costs and bolster its efficiencies.
"We had got far too diversified when it came to fleet types to be operationally efficient", comments Douglas. "A big part [of the carrier's transformation plan] was always to limit the number of diff types we were operating."
This will see the Boeing 787 maintained as the "backbone" of Etihad's fleet, "for the medium term". The carrier has 40 of the aircraft in service and around 30 more on order.
The benefits of the 787 are not only its economics, he continues, but its sustainability value, given its relatively low fuel burn.
Cirium's data shows the carrier also has five A350-1000s in service and a further 15 on order, with the aircraft type set to form a key role in Etihad's future fleet plans.
Douglas comments that the company's strategy going forward its to remain focussed on its hub model, which pre-pandemic accounted for nearly three quarters of its passengers. "We assume that will return," he says, "probably with slightly stronger point-to-point [traffic] as we start off."
He adds that although in the past the carrier's mantra was the "big is beautiful", the changes reflect the carrier's transformation into a mid-sized, full-service airline that is "obsessive about customer service" and focussed on sustainability.