Lufthansa Group's low-cost unit Eurowings has taken delivery of its first Airbus A320neo.
The CFM International Leap-1A-powered jet landed in Dusseldorf on 1 April following a delivery flight from Toulouse.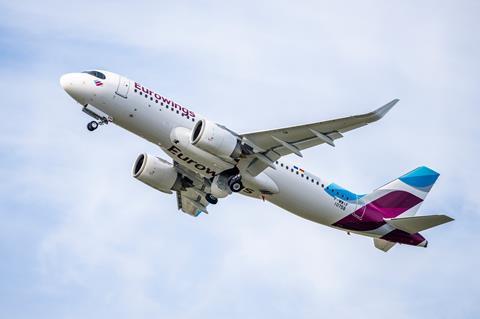 The carrier expects the aircraft to enter commercial service in June, following "upgrade" work at Eurowings Technik.
Eurowings plans to take six more A320neos in 2022, plus one in 2024. It further plans to receive five A321neos during 2023.
With all 13 of its Neo jets set to be Leap-1A-powered, Eurowings is an outlier in the Lufthansa Group, where Pratt & Whitney PW1000G engines have powered examples of the family so far delivered to Lufthansa mainline and Swiss.
Lufthansa mainline – which was the A320neo launch operator and had 42 of the family in service in February this year – is due to take some Leap-1A-powered examples, however, from its outstanding orders for dozens more of the type.
Swiss has eight A320neo-family jets in service.
Eurowings has around 75 A320-family jets in its current fleet, including examples of the smaller A319.