Taiwan's EVA Air is to convert three of its Boeing 777-300ER aircraft into freighters, and will engage Israel Aerospace Industries (IAI) for the work.
The transaction price comes up to $120 million, or about $40 million per aircraft, EVA Air says in a 14 March stock exchange filing.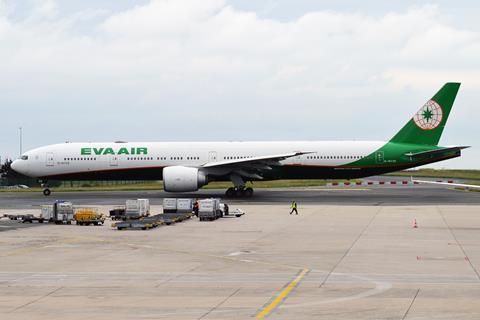 The carrier did not indicate when the converted aircraft will be redelivered to its fleet.
According to Cirium fleets data, the Star Alliance carrier has 33 in-service 777-300ERs and another example in storage. The aircraft type is a mainstay in the airline's long-haul, as well as high-density intra-Asian, network.
Like some of its peers in the region, EVA Air has seen strong cargo performance amid the pandemic. The carrier, as well as compatriot China Airlines, has previously stated that cargo revenue has helped cushion the financial impact wrought by the pandemic.
IAI has been developing the 777-300ERSF freighter modification programme in co-operation with lessor GECAS. It most recently clinched a four-aircraft commitment from Middle Eastern carrier Emirates.