US express delivery company FedEx applied with the Federal Aviation Administration in 2019 for authority to install a missile-defence system on Airbus A321s – an aircraft type FedEx does not yet operate.
The US company has previously participated in airborne missile-defence systems tests using Boeing MD-10 freighters. Such countermeasures have been considered as a defence against man-portable weapons, notably since an attempted attack on an Israeli aircraft at Mombasa in 2002.
FedEx, a longtime Boeing customer, does not operate Airbus narrowbodies.
"On October 16, 2019, FedEx applied for a supplemental type certificate to install a laser-based missile-defence system, which directs infrared laser energy toward heat-seeking missiles, on the Airbus [A321]," the FAA says in a new regulatory filing.
"In recent years, in several incidents abroad, civilian aircraft were fired upon by man-portable air-defence systems," it adds.
Whether FedEx's application indicates it intends to acquire A321s – and equip them with missile-defence systems – remains unclear. The company has not responded to a request for comment from FlightGlobal.
Airbus never produced new-build A321 dedicated-freighters.
But several companies offer A321 passenger-to-freighter conversions. Those include Elbe Flugzeugwerke, a joint venture between Airbus and ST Engineering that offers its A321P2F.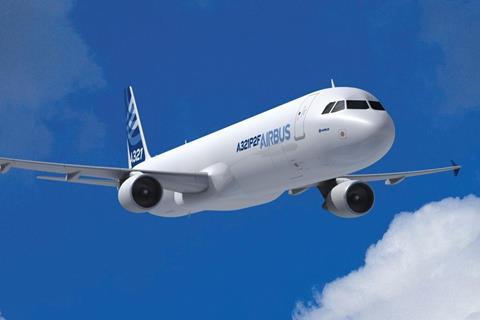 US firms Precision Aircraft Solutions and Air Transport Services Group (ATSG) also partnered to sell their A321-200PCF converted freighter. ATSG subsidiary Pemco does that project's actual conversion work.
FedEx's airline division operates a 400-plus fleet composed mostly of jets made by Boeing and its corporate predecessors. Those include five 747-400Fs, 108 757Fs, 112 767Fs, 51 777Fs, 11 DC-10Fs and 57 MD-11Fs, according to Cirium data. FedEx also operates 65 Airbus A300-600Fs.
It holds orders for 118 new aircraft, among them 38 767Fs, six 777Fs, 24 ATR 72-600Fs and 50 of Cessna's in-development SkyCourier turboprop, Cirium shows.
The FAA's recent regulatory filing responds to FedEx's 2019 application. The document, made public on 14 January but issued 7 January, proposes conditions under which the FAA would approve FedEx's missile-defence system installation.
The system's design must prevent its activation while the aircraft is on the ground, and its operation must not damage any aircraft or cause human injuries, the FAA says. "Infrared laser energy can pose a hazard to persons on the aircraft, on the ground and on other aircraft."
FedEx worked with Northrop Grumman to test anti-missile systems on MD-10 freighters about 15 years ago.
Missile strikes have downed a number of civilian aircraft in past decades. Most recently, on 8 January 2020, Iranian forces fired on a Ukraine International Airlines Boeing 737-800 shortly after the jet took off from Tehran. The 737 crashed, killing 176 people. Iran said its forces mistook the jet for a hostile target.
In July 2014, a Malaysia Airlines 777 crashed in Ukraine after being struck by a Russian-made missile, Dutch investigators say. That crash killed 298 people.