A Boeing 737 Max has flown in Chinese airspace for the first time in more than three years, amid uncertainty over the type's return to service among the country's carriers
On 10 October, a 737 Max 8 operated by MIAT Mongolian Airlines flew a commercial flight (OM235) from Ulaanbaatar to Guangzhou.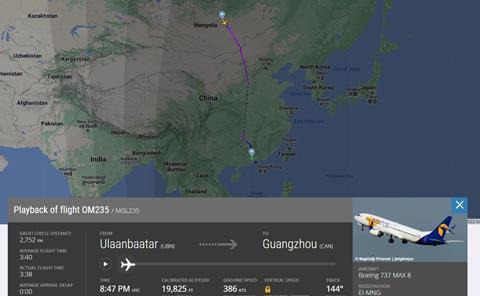 According to flight-tracking data, the aircraft (EI-MNG, MSN43795) left the the Mongolian capital at 04:40 local time, flying south-east over Mainland China before landing at Guangzhou at around 08:18 local time.
The 737 Max returned back to Ulaanbaatar later in the morning.
Cirium fleets data shows MIAT to have a single 737 Max in its fleet. The three-year-old aircraft is owned and managed by lessor Avolon, and was parked from 2019 amid a global grounding following two fatal crashes.
MIAT returned the jet to operations in September this year, and flight-tracking data for the past week shows that the Guangzhou-bound flight was the airline's sole flight operated since the type's return to service.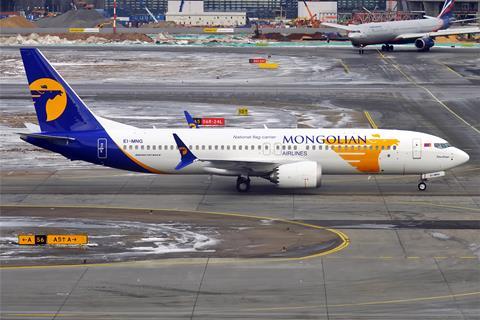 While China has lifted an operational ban on the 737 Max, its airlines have yet to indicate when they would return the type to the skies. The country's three largest airlines have also omitted the 737 Max in their delivery plans until the end of next year.
On 15 September, Boeing chief executive Dave Calhoun said that a small number of 737 Max jets bound for China are being re-marketed to other carriers, and confirmed that deliveries of the type to China have yet to recommence.
China also remains shut off to the world as it maintains a zero-infection strategy, limiting the number of international flights into the country.