Gulf operator Etihad Airways has taken redelivery of its first example of an Airbus A380 ahead of returning the ultra-large jet to service this summer.
Storage and MRO specialist Tarmac Aerosave today says it has redelivered the first of Etihad's A380s back to the airline. The aircraft had been stored and maintained at Tarmac's site in Teruel, Spain, before being shipped to the Gulf carrier after further maintenance work at its French facility in Tarbes.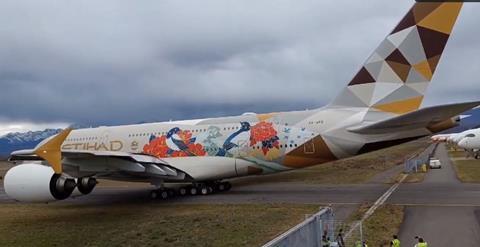 Etihad grounded its 10 A380s indefinitely in April 2021, having parked the type as part of wider action when Covid hit a year earlier. However, the type earnt an unexpected stay of execution with the carrier as strong demand prompted it to judge it was "financially viable" to restore some of the jets to service. The carrier is bringing back four of its 10 A380s, initially deploying the aircraft on its Abu Dhabi-London Heathrow route.
Tarmac in December redelivered the first A380 from storage for Lufthansa, another carrier which has opted to bring the type back into service to meet strong demand this summer.