Canadian discount carrier Flair Airlines confirms that "unprecedented action" taken by aircraft lessor Airborne Capital has affected four of its Boeing 737s, amid reports the jets were seized.
"Flair Airlines is aware of extreme and unusual actions taken by a New York-based hedge fund and lessor of certain Flair Airlines aircraft," the carrier tells FlightGlobal. "This is a commercial dispute, which has impacted four of Flair Airlines' aircraft. The airline is aggrieved by this unprecedented action."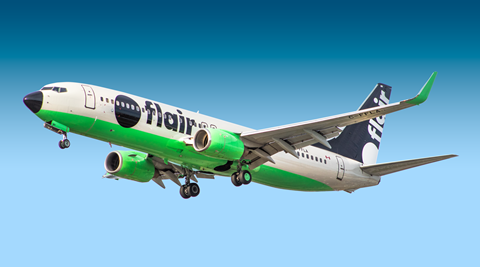 Several news outlets reported in recent days that Irish aircraft lessor Airborne Capital had seized four of Flair's jets. Canada's National Post reports the aircraft were taken at Toronto, Edmonton and Waterloo.
Flair confirms the dispute involves Airborne Capital but does not confirm the aircraft were seized. The lessor did not immediately respond to a request for comment
Airborne, with offices in Dublin and New York, had leased six 737s (including one 737-800 and five 737 Max 8s) to Flair, according to Cirium data. As of last week, Flair had operated a total fleet of 22 in-service 737s.
"Flair Airlines has been involved in ongoing communications with the lessor and payment has been initiated," the airline says. "Flair Airlines will continue to engage in a consensual mediation with the lessor to remedy the situation."
Despite the disruption, Flair insists its operations will continue.
"We have taken steps to bring four aircraft into our operations. We fully anticipate we will fly our existing schedule," it says. "We do not foresee any major disruptions to our route map."
Flair primarily operates flights from Canada to leisure destinations in the USA and Mexico.
The carrier began scheduled flights in 2016 for a brand called NewLeaf Travel Company, then in 2017 acquired NewLeaf's assets and began operating under the name Flair.