Garuda Indonesia aims to have 96 aircraft operating under its main brand by the end of 2026, with modest fleet growth averaging nine aircraft annually for the next four years.
Garuda reiterates that it will have 61 aircraft in service by the end of 2022, according to a lengthy Indonesian language clarification about its restructuring posted on the Indonesia Stock Exchange.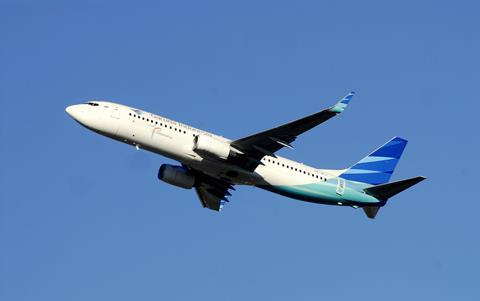 The carrier notes that at present it has just 30 "serviceable" aircraft that are fit for operations.
Using private placement funds obtained through its restructuring, Garuda aims to boost this number to 61 aircraft by year end.
This is consistent with a statement in early August that it would have 60-70 aircraft in service by the end 2022. A lack of MRO capacity is understood to be a major bottleneck for Indonesian airlines aiming to returned stored aircraft to service.
The August statement marked an about face from previous comments made by Indonesia's deputy minister for state-owned enterprises Kartika Wirjoatmodjo that the airline, which has undergone a massive restructuring, would have over 100 aircraft in service by the end of 2022.
For the time being, Garuda has an arrangement with lessors that narrowbodies will be leased on a usage basis until the end of 2022, and widebodies until the end of 2023. After these terms expire new fixed rate leases will be imposed – although Garuda says the monthly lease rates will be lower than those that prevailed before the coronavirus pandemic.
At the end of 2022, Garuda aims to have 13 Airbus A330s, three A330neos, eight Boeing 777-300ERs, and 37 737-800s in service.
By the end-2023 it will have 66 aircraft, 80 by the end of 2024, 87 by the end of 2025, and 96 by the end of 2026.
GARUDA FLEET PLAN
Aircraft Type
2022
2023
2024
2025
2026
A330-200
3
3
2
2
2
A330-300
10
10
10
10
10
A330-900
3
3
5
5
6
777-300ER
8
8
8
8
8
737-800
37
42
55
62
70
Total
61
66
80
87
96
Source: Garuda stock exchange filing
Most of the fleet growth will apparently come from the reactivation of 737-800s that were stored during the pandemic. The fleet plan for end-2022 calls for 24 widebodies and 37 narrowbodies in the form of the 737-800. By end 2026, Garuda aims to operate 26 widebodies and 70 737-800s.
The 737 Max is entirely absent from Garuda's fleet plan, with the carrier stating that it the new Boeing narrowbody has been "terminated" – consistent with previous remarks from the carrier. Boeing's web site, however, shows that Garuda still has 49 unfilled 737 Max orders.
Cirium fleets data shows that carrier's sole 737 Max 8 (PK-GDA, MSN62093) was recently returned to lessor Bocomm Leasing.
Garuda adds that at the end of 2021 its fleet comprised 112 aircraft.