Aggressively expanding US charter operator Global Crossing Airlines (GlobalX) has disclosed an agreement to lease another Airbus A321 freighter, set to be delivered in December.
"We are pleased to be able to add an additional A321F to our delivery schedule for 2022," Ed Wegel, GlobalX's chief executive, said on 13 March. "We expect now to take delivery of a total of six A321Fs this year, including the first freighter, which entered revenue service in February."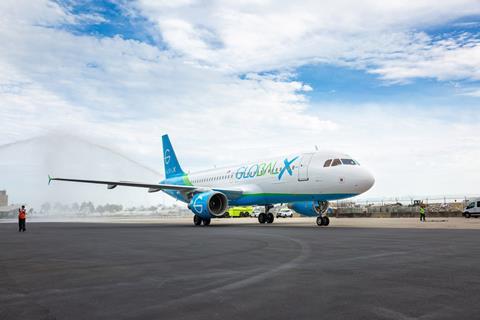 The Miami-based start-up carrier launched passenger flights in August 2021 using Airbus A320s. In early February, GlobalX received approval from the Federal Aviation Administration to begin cargo operations in the USA with its A321F aircraft.
The company's first freighter has flown for several different customers during its first month in service, including the US government, the US automotive industry and "a major motion picture studio", GlobalX says.
"The A321F has performed extremely well, with better fuel burn and load and unload for both main deck and lower belly" in fewer than 45 minutes, GlobalX says. "The A321F takes 50% more volume than its narrowbody competitor and is quickly shaping up to be the 757 freighter replacement aircraft."
Now operating eight Airbus jets, GlobalX expects to expand its fleet to nine A320s and two A321Fs within the next two months, Wegel says.
The company adds that it "will seek to add as many A321Fs to the fleet as fast as possible to satisfy what is becoming overwhelming demand for the aircraft in the Americas".
GlobalX plans to operate 12 passenger aircraft and six freighters by the end of 2023 – and expand to 18 passenger aircraft and 12 cargo jets by the end of next year.
"This is for us very rational and sustainable growth, and this does not include an A330 widebody aircraft that we may add to the fleet," Wegel said during the company's fourth-quarter earnings call on 9 March.
GlobalX is also pursuing certification for planned cargo operations in Colombia and expects to enter the design assessment phase of that process in May.