Brazil's low-cost carrier Gol says it has reached an agreement with Boeing on cash compensation for the more-than-year-long 737 Max grounding, and the termination of 34 forward orders for the company.
Sao Paolo-based Gol, which operates a Boeing 737-only fleet, says on 14 April that it now has 95 aircraft on order, down from its 129 previously.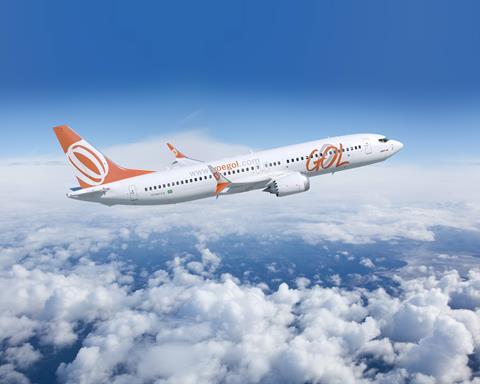 "Gol remains fully committed to the 737 Max as the core of its fleet and this agreement further enhances our successful long-term partnership with Boeing," says chief executive Paulo Kakinoff.
Gol had to take its seven 737 Max aircraft out of its schedule after the type was grounded worldwide following two fatal crashes in 2018 and 2019 that killed 346 people altogether. The aircraft has been grounded buy global regulators in March 2019 and it is not clear when it will be recertificated.
Brazil's shutdown in mid-March of virtually all air traffic as a response to the coronavirus pandemic, set Gol on a course to design what it hopes will be a break-even cash-flow operation that would carry it through the next 90 days and beyond. Under the Brazilian National Civil Aviation Agency's "essential network" plan, Gol along with Azul and LATAM Airlines guaranteed that they would provide only the minimum service necessary to ensure that all 27 state capitals and 19 other large cities will remain accessible by air during the coronavirus crisis.
Gol, which had been flying 750 flights per day before the crisis, is now down to about 50 flights per day. It is only operating 9 of its 130-strong Boeing 737NG fleet according to Cirium fleets data.
Earlier in the day, Boeing said it removed 313 aircraft from its backlog in March due to the impact of the coronavirus pandemic, accounting adjustments, and 150 737 Max cancellations, including the 34 terminations by Gol, five by Czech carrier Smartwings and 36 from undisclosed customers. An additional 75 aircraft are covered by a previously announced cancellation from lessor Avolon.