Gol has signed a sale-and-leaseback deal with lessor Carlyle Aviation for 11 of its Boeing 737NGs, as the Brazil-based low-cost operator takes steps to deleverage its balance sheet.
Gol's in-service fleet of 130 aircraft is comprised entirely of 737NGs. Of those 130 aircraft, 19 are owned by Gol and the remaining jets are leased, Cirium fleets data shows. The Carlyle sale-and-leaseback deal leaves Gol with just eight owned in-service aircraft.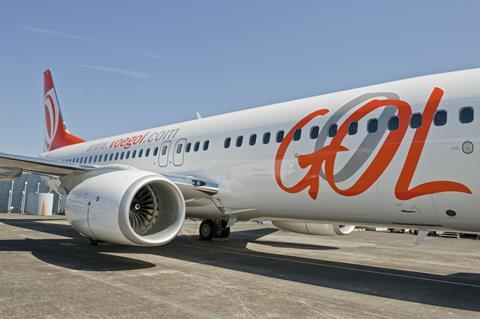 The carrier intends to replace the 11 737NGs with Boeing 737 Max-8 aircraft over the next several years, and expects half of its fleet to be comprised of Max aircraft by 2025. Gol has seven Max jets in storage and 144 on order.
The sale of the 11 737NGs to Carlyle will reduce the airline's net debt by approximately R$500 million ($115 million) and aid in its fleet renewal strategy, the airline says.
"Gol accelerated its fleet renewal and modernization plan in light of favorable market conditions for transactions of Boeing 737NGs," Gol's chief financial officer Richard Lark states.
The airline had entered into leasing contracts for five additional 737-800s during the third quarter of 2019 to offset delays in Max deliveries. Gol reports fourth-quarter earnings on 20 February.
On 4 February American Airlines and Gol disclosed a codeshare deal which, if approved by regulators, will give the US major's customers access to 20 new South American destinations. Gol customers will gain access to more than 30 US destinations, from Sao Paulo, Rio de Janeiro, Brasilia and Fortaleza.