European wet-lease operator Hi Fly has brought into service a freight-optimised Airbus A380, which has been temporarily converted from passenger configuration in a project overseen by Lufthansa Technik.
The German MRO and modification specialist was responsible for technical and engineering support, Hi Fly says of the project, while the work was executed by Hi Fly's line maintenance provider Mesa at its Lisbon facility.
The economy-class seats have been removed from the former Singapore Airlines widebody, which means the superjumbo can carry "close to 60 tonnes of cargo", Hi Fly says. With the seats removed, pallets can be fitted to the seat tracks.
The aim is to tap "high [air freight] demand during the Covid-19 crisis", the carrier states.
Lufthansa Technik said in May that it had been awarded the technical and engineering task to support the "operational change" for the double-deck type, but did not name the customer.
Hi Fly notes that the modification is temporary and complies with passenger-to-freight regulatory exemptions drawn up to meet demand during the coronavirus crisis.
Lufthansa Technik says that it will also offer the conversion as a permanent solution.
The project marks the emergence of A380s for freighter work some 13 years after a dedicated A380 freighter programme was effectively halted by a withdrawal of customer interest.
With many operators of the A380 either removing the aircraft from their fleets or putting them into long-term storage, this year could see renewed interest in a freighter configuration of the type.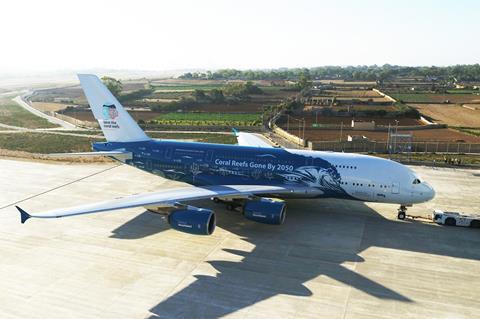 Of the A380's potential in that regard, Henning Jochmann, Lufthansa Technik's aircraft modification base maintenance senior director, told FlightGlobal in early June: "At the moment the oil price is very good, and there are logistical limitations, but I expect to see more A380s on the market."
Hi Fly's A380 features the special "Save the Coral Reefs" livery that it unveiled at 2018's Farnborough air show.
The aircraft has since provided passenger services for airlines including Air Austral, Air Madagascar, Norwegian and the now-defunct Thomas Cook.
The Hi Fly brand is operated by two airlines: one based in Portugal and the other in Malta.