British Airways and Iberia owner IAG is planning to add 15 widebody aircraft to its fleet in 2022 following a lull in deliveries last year, as the group seeks to meet recovering long-haul travel demand.
Speaking during a full-year earnings briefing today, IAG chief executive Luis Gallego explained that following the removal of "50 long-haul aircraft" from the group's fleet during the Covid-19 crisis, "we need to bring in new aircraft to restore the capacity".
As a result, IAG expects to add 25 aircraft this year – 15 of them widebody aircraft.
That move comes with IAG expecting group-wide capacity at 85% of 2019 levels for full-year 2022, amid forecasts of a strong recovery on transatlantic sectors, with BA expecting to be at pre-Covid capacity on such services in the third quarter. By the fourth quarter, the group expects Iberia to have reached pre-crisis capacity on its key Latin American services.
Cirium fleets data indicates that the long-haul aircraft due for delivery in 2022 will be a mix of widebody jets: Airbus A350-900s and -1000s, plus Boeing 787-10s.
Six A350-900s are destined for Iberia – which already has 10 of the type in service, according to Cirium data – while BA will receive three more A350-1000s and five 787-10s, adding to the eight and two it respectively has in its fleet already. The Cirium data does not yet include details on the 15th aircraft due for delivery in 2022.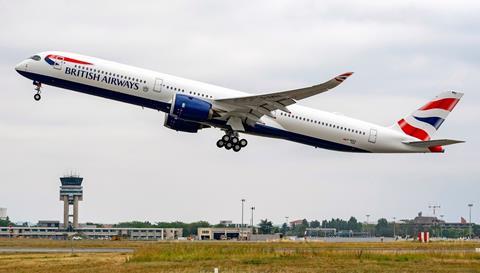 The short-haul jets will be from the A320neo family, according to Cirium data, and will be split between Iberia, Vueling and BA.
By the end of the 2020-2022 period, IAG now expects the group to have taken delivery of 70 aircraft – a big drop from the pre-Covid forecast of 143. Short-haul deliveries have suffered the most, falling from 92 in the 2019 forecast to 34 in today's, while long-haul deliveries have dropped from 51 to 36.
IAG took 34 new jets in 2020 – split 50:50 between short- and long-haul aircraft – but only 11 in 2021 – four of which were for long-haul operations – the group said today, as it delayed the arrival of several jets last year amid Covid-19 uncertainties.
Some of the "long-haul" jets delivered over the past two years include A321LRs for Aer Lingus, but no deliveries of that narrowbody variant are expected this year, Cirium data shows.
Before the commencement of 2022 widebody deliveries, IAG has outstanding orders for 10 A350-900s, 10 A350-1000s and 10 787-10s, alongside commitments for 18 777-9s, according to Cirium data.
IAG's widebody fleet retirements during the Covid-19 crisis mainly focused on British Airways' 747s – of which the UK carrier had 32 in its fleet when the pandemic hit – and Iberia's A340s – of which the Spanish carrier had 17 in its fleet at the beginning of 2020.
Reuters reported on 23 February that IAG was in discussions for a significant new narrowbody order, potentially covering Airbus and Boeing jets. As of 25 February, the group had outstanding orders for 52 A320neo-family aircraft, including 14 A321XLRs, Cirium data suggests.
IAG in 2019 signed a tentative agreement with Boeing covering up to 200 737 Max aircraft.