Icelandair has revealed a new livery on three of its six Boeing 737 Max 8s as part of its first rebrand since 2006.
The Reykjavik-based carrier released a photo of the three airframes painted in the new colours. The lettering remains in the airline's traditional royal blue, but is larger and extends across the window line, reminiscent of Frontier Airlines' or Ryanair's paint scheme.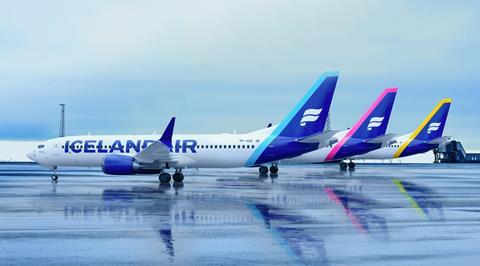 The tails are primarily blue with the company's stylised logo in white and a coloured stripe.
The five colours (boreal blue, magenta, sky blue, yellow, and green) represent "different phenomena in Icelandic nature", Icelandair says.
"We plan to have a total of five Max aircraft with the new livery by the end of February," the airline adds. "The repainting of the rest of our fleet will continue according to the maintenance schedule of each airplane."
The first aircraft, with registration TF-ICE and a sky-blue tail, arrived back at Keflavik airport from Norwich in the UK, where it was painted, on 28 January.
According to Cirium fleets data, the Icelandic flag carrier has nine Boeing 737 Max jets in service and three on order. Last week the airline said it would lease another pair of 737 Max to raise capacity for the upcoming summer season, bringing to 14 the number of aircraft of that type in the fleet.
Icelandair originally ordered 16 737 Max but cut the agreement to 12 in 2020, under a settlement with Boeing to compensate for the two-year grounding of the type following two fatal accidents.
The airline also operates 757s, 767s and De Havilland Canada Dash-8s.