ITA Airways expects to debut the Airbus A320neo from the end of January after painting was completed for the Italian carrier's first of the type.
The airline, which launched flights as a successor carrier to Alitalia in October 2021, has already introduced Airbus A220s and A350s in the past year as part of major fleet renewal based around Airbus aircraft.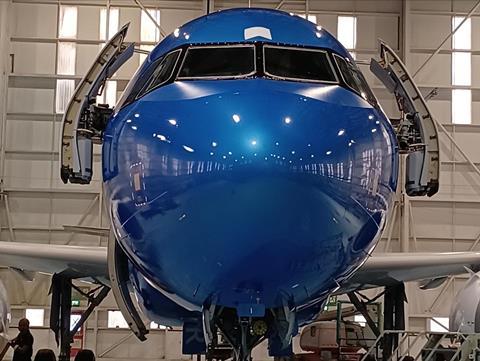 It has now released pictures of its first A320neo in ITA colours after it was rolled out from a paint shop at Shannon airport in Ireland. Cirium fleets data show ITA Airways has 14 A320neos and nine A321neos on order.
ITA, which began operations using former Alitalia aircraft acquired from the latter's administrator, plans to take 39 new aircraft this year as it continues to renew its fleet. These include its first of another type, the A330-900, of which it expects to take nine this year.
ITA Airways' first A320neo is named after Inter Milan and Italy captain Giacinto Facchetti, in keeping with its move to call its aircraft after Italian sports stars.