Italian start-up Ego Airways has launched operations with a single leased Embraer 190, and plans to expand its fleet to include two additional E190s.
The Catania-based carrier operated its first flight, to Parma, on 30 March. Other destinations listed on its website include Bari, Brindisi, Cagliari, Florence, Forli, Ibiza, Lamezia Terme, Mykonos and Olbia. The airline says it has two more E190s "on the way".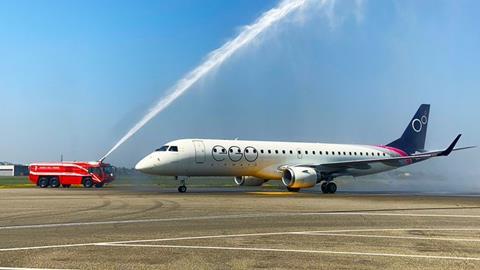 Cirium Fleets Analyzer data shows that the airline's initial jet is a 2008 example managed by US-based lessor Azorra Aviation. The aircraft is listed as being sub-leased from German Airways.
Four of Azorra's 12 E190s are on lease to German Airways, in addition to the one it has placed with Ego. Its seven remaining E190s are listed as being in storage.
Embraer posted on Twitter on 31 Marchf that Ego had leased three E190s and would use them to serve seven domestic cities.