UK leisure operator Jet2 has exercised purchase rights on six more Airbus A321neos, taking its firm orders for the narrowbody to 57.
Jet2, a predominantly Boeing operator, last August intially signed for 36 firm A321neos and held purchase rights on 24 more – six of which it has now exercised. In October it separately ordered 15 more of the type for delivery between 2026-2029.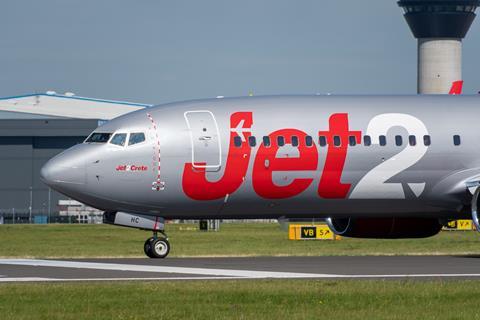 The airline announced that it had exercised the aircraft in a trading update today in which it disclosed a projected pre-tax loss of between £378-£383 million ($411-$416 million) for the year ended March 2022.
Jet2 had previously flagged likely losses over the second half of its financial year amid amid continued Covid travel restrictions, a situation exacerbated by the Omicron variant which further dampened demand in December and January.
"Pleasingly, progressive relaxation of UK travel restrictions in early 2022 – firstly, with the removal of pre-departure tests for vaccinated people travelling to the UK; and subsequently no longer having to take a post-arrival lateral flow test – resulted in bookings increasing materially with average load factors for February and March 2022 approaching seasonal norms as customer confidence in travelling internationally rallied," the carrier says.
Jet2 describes summer bookings, on which its on-sale seat capacity is 14% higher than pre-crisis levels, as "encouraging".
"Average load factors for the summer 2022 season are currently 2.5 percentage points behind summer 2019 at the same point (against the 14% increase in seat capacity), with booking momentum accelerating, customer confidence continuing to grow and pricing robust," it says.
The group will provide a more detailed outlook for the summer season when it publishes its full-year results on 7 July.